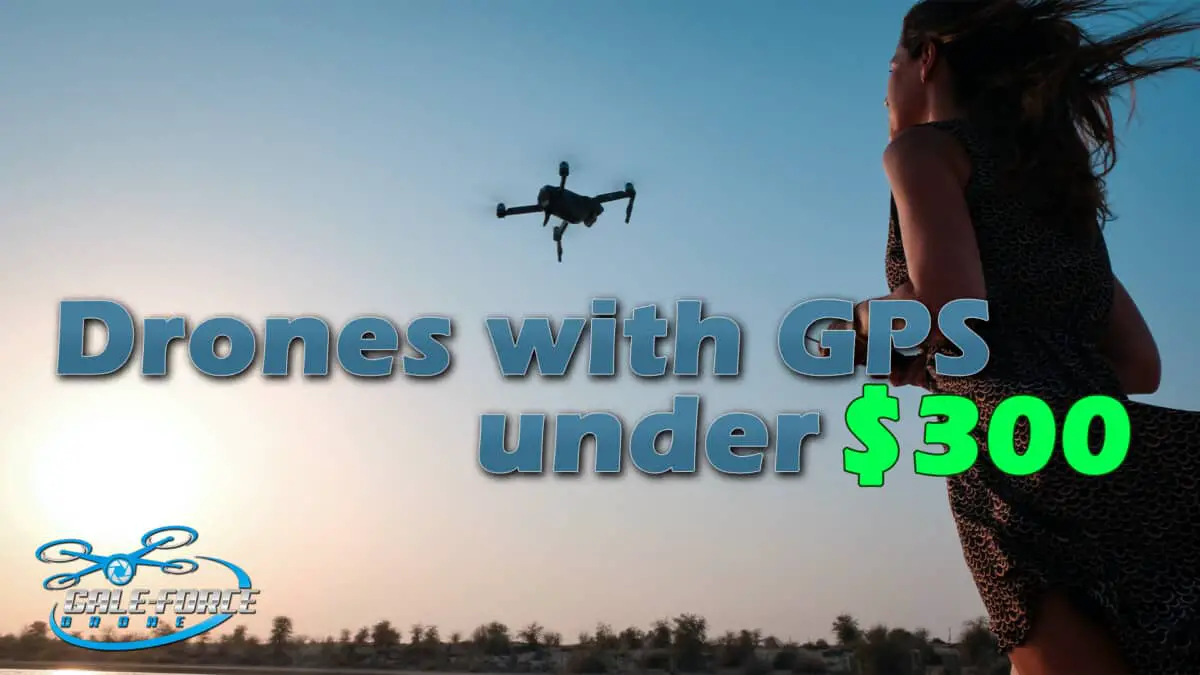 If you are looking to purchase your first drone, or you are buying a drone for your kid, this is my hit list for drones with GPS under $300.
In this article, I provide you with a quick reference to an actual, in-depth study on the current drones with GPS under $300 dollars. 
To me, this price-point is sort of the dividing line between the beginner or consumer drone, and the prosumer drones that might be used for professional drone services. If I am purchasing my first drone, or perhaps buying my kid a drone, this is the most I am willing to spend in case of the catastrophic crash that sends the drone to the trash bin! Hopefully that never happens, but just in case it does, the financial impact is minimal.
Additionally, you might be thinking about buying a drone for one of your children. These drones are recommended for early teens and older, but with close adult supervision, these drones are safe enough for kids to fly. I have written an in-depth article "Is it safe to give my kid a drone?", just click on the link to understand the considerations for safety and flying recommendations for kids.
I am often asked by family and friends, what is the best drone for kids, or for beginners. So there are a few criteria that are absolute requirements that I factor in to my recommendations.
Price (of course)
GPS (more on that later)
Camera Quality (resolution)
Battery life (flight time)
Battery replacement (cost and availability)
Others (such as Mfr., Reviews, and Warranty)
Why is GPS important in a Drone?
While having a GPS capable drone is not necessarily required to fly your drone, I am sure you might rather not crash your new drone on your first flight.
Starter, or beginner drones tend to be super light-weight, and can be pushed around by even the slightest breeze. GPS enabled drones will self-adjust during flight to hold to a GPS point, that is, until you pilot the drone where you want it to go. Having a GPS capable drone is more affordable than you think, and the advantages that GPS offer in terms of ease of flight and more advanced smart features is well worth the few extra dollars you might spend.
GPS capable drones will have an integrated GPS module that connects to a network of orbiting satellites. This gives the drone the ability to hold position while hovering, perform autonomous or pre-programmed flight plans, return to home if the pilot loses the drone, as well as waypoint navigation and other advanced flight missions.
Listed below is my quick hit list for current drones with GPS under $300.
How To Get Your FAA Part 107 Pilot Certification
If you are serious about making money with your drone, whether it be Real Estate, Aerial Inspections, etc., then you will need, from the FAA a 14 CFR Part 107 certification.
The best source for your training can be found by clicking on RemotePilot101. Jason Schappert is a pilot and author of 8 best-selling aviation flight training books. While studying and taking tests is not the most fun, Jason breaks it down into 10 easy to follow (at your own pace) video lessons. These lessons are straight and to the point giving you the exact knowledge, nothing less, nothing more than what you need to pass the exam. Additionally, he is continually updating the training to keep it relevant to any changes to FAA regulations. This membership is a 1-time subscription – for life! So when you're 24 month renewal comes around, just sign in to RemotePilot101 and refresh your training.
Just remember, if you are flying commercially, you will need your Part 107 certification. It's not hard, you can do it!