With the growing demand for visually stunning and immersive content, the use of drones in real estate has skyrocketed in recent years. But the question remains, are realtors hiring drone photographers to capture aerial footage and photos of their properties? As a language model trained by OpenAI, I have discussed this topic extensively with my user and have also reviewed various industry reports and trends to bring you a comprehensive answer to this question.
3 Ways Real Estate Agents Are Hiring Drone Photographers
A Real Estate Agent may contract you directly to provide drone photo and video for a property listing
A Real Estate Agent may contract a Commercial Photographer specializing in real estate that offers drone photography as a bundle
A Real Estate Agency may hire a full-time staff drone photographer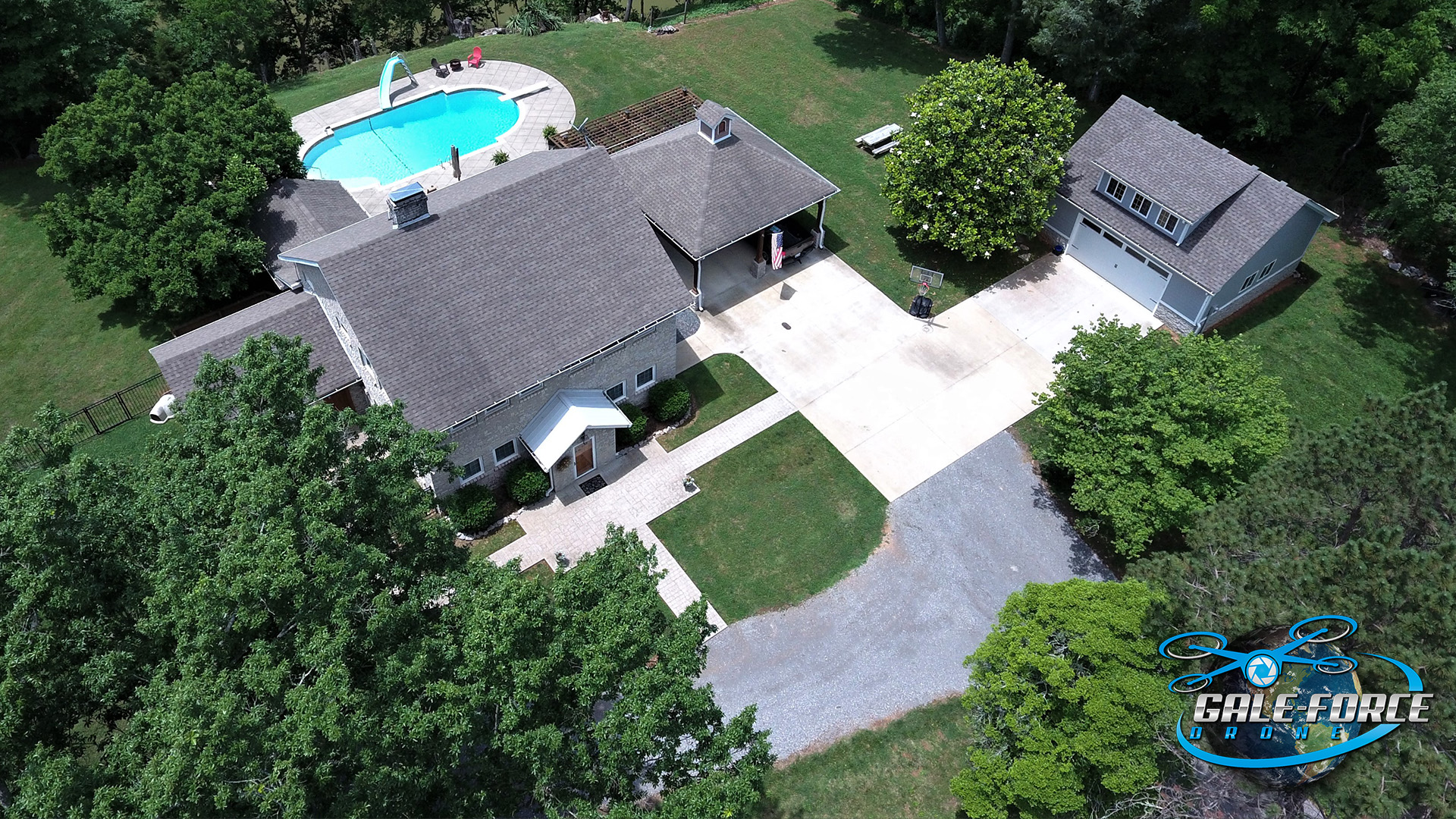 The "Realities" of Real Estate Photography
The Realities of Real Estate Photography is that, like any business, Real Estate Agencies and Agents are focused on the bottom line. While there may be a perception that all realtors are swimming in wealth from their fat commission checks, the truth is that most are doing well to close just a handful of listings annually. In fact, the 80/20 rule applies in the real estate world, where 20% of the agents are thriving while the other 80% may be barely surviving. I also know firsthand that many agents have to supplement their incomes with other jobs between sales. For example, I have a good friend who is very successful in the music industry, but felt it necessary to acquire his real estate license as a backup or secondary income.
The Importance of Professional Drone Photography
You're asking, "what does this have to do with the drone business?" While it's understandable why some agents might skimp on, or be hesitant to hire drone photography for their listings, the truth is that using drones can significantly improve their chances of making a sale. Many agents still commit the "NO NO" of doing their own photography or simply skipping it altogether. However, by investing in professional drone photography, agents can set themselves apart from the competition and showcase their properties in a way that traditional photography cannot. Furthermore, the costs of drone photography may not be as steep as many think, especially considering the potential return on investment. By providing high-quality visuals that capture the essence of a property and its surroundings, agents can attract more buyers and increase the likelihood of a successful sale.
The Cost vs. Value of Hiring a Drone Photographer
The Real Estate Agent will also factor if hiring a drone photographer for a property listing is feasible. The value vs. cost ratio must be carefully weighed. As a drone photographer myself, I've encountered situations where the challenge of capturing aerial photo and video of the property has made justifying the cost questionable.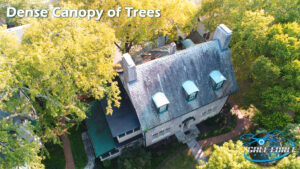 To share an example, I was hired by an agent to fly a beautiful historic house built in the 19th century. Originally the home was part of a large sprawling property, but by 2017 had been reduced to a small lot in a metro city area. While the $3million price tag on the home listing definitely warranted drone photography, the challenge was that the house was surrounded by massive mature trees, making it nearly impossible to capture the home from a birds view. Being an eager drone photographer and needing the job, I managed to fly the house from underneath the tree canopy and gave him some real nice photos and panning video shots. The agent/client was happy, but looking back, I can see how this job could have easily been deemed "not worth it"; the final product didn't necessarily justify the cost. You will find out that every property is unique, requiring some consideration before making the decision to hire a drone photographer.
Factors Involved in Deciding if Drone Photography is Feasible
So, are realtors hiring drone photographers? For the Realtor, determining the cost vs. value of each property listing is an ongoing challenge. With unique properties and different client expectations, it's not always clear how much an agent should be investing in drone photography or other marketing efforts. However, if we as the drone photographer offer creativity in our approach and careful consideration of each property, agents can make informed decisions that will ultimately benefit their clients and their own bottom line.
The 3 Best Ways to get Real Estate Drone Work
1. Work Direct With The Real Estate Agent
When it comes to getting real estate drone work, working directly with a real estate agent can be a great way to establish a solid and lasting business relationship. Despite concerns about the cost of drone photography, real estate agents always want the best quality photography for their listings. As a drone photographer, you should not be shy about pursuing this business opportunity.
I enjoy working directly with the agent for the following reasons:
Direct collaboration – most often the agent will want to meet you at the property and observe the operation. I personally loved this because there was no guessing what they might want.
Easy transaction – with direct interaction, they call you, you go shoot the property, and get paid.
Referrals – once you have established a relationship with the realtor, he or she will be happy to boast about their "Drone Guy" and refer other agents to you.
Working direct with the agent can be a lot of fun! You get to experience "being involved" with the process, collaborating on the marketing visuals being used in the sale of the property. When I am shooting a property, I make sure to talk about the selling points of a property, sort of hyping it up with the agent.
Starting out with an agent, there will be the "getting to know you" phase. This is when you will want to ask a lot of questions about the overall image the agent wants to present the property in the sales listings. Once you establish a trusting business relationship, you can count on repeat business. They will get to know your pricing, you will get to know their expectations all making for a mutually beneficial working relationship. As a tip, offer the first project for half-price. Your portfolio should be enough to sell them on the quality of your work, but investing in them is always a positive first move.
What To Do When you Get The Call
Here's a few things to think about when you receive a quote request.

The location and size of the property
Whether the agent has signed the seller agreement or contract
Agent requirements in terms of the actual photos and video the agent needs for the listing.
Ask them who does their standard photography in case they would like to have your drone photos and video integrated into one package.
These items will help determine how you scope and price out the project. If the client has a photographer that can process your photo and video with theirs, the Agent may want to remove the "processing" from your proposal. The seller agreement is particularly critical in that you do not want to commit to a project if they have not officiated the seller agreement with the seller. Also, when asking about their standard photography, this can lead to an opportunity to refer a photographer, thereby adding value to your proposition and the business relationship.
The Transaction
I highly recommend that whether the agent is a new or long-term client, you should always invoice and require payment for your services prior to delivery of the photos and video deliverables. In some cases, I will often require a retainer fee before I even go to the property, but I generally only do this with new clients that I have not worked with yet. You can determine the amount you are comfortable with, taking into consideration your time and expense for going out to shoot the property. I then invoice the retainer as part of the proposal. Remember, you are doing this work for pay, it is easy to get caught up in the excitement (especially in the beginning) and forget this important step. It is unfortunate, but it is a must to always protect your time. For instance, you get a call, you go out and do the work, then the agent or seller changes their mind. By requiring the upfront retainer, your time is paid. And by asking for the balance before delivering the product, you minimize the risk of non-payment, or the payment being delayed.
Don't Miss an Opportunity
As an additional tip, always do a little more than required. I will often get shots to the property from the street leading to the property, and/or some of the surrounding landmarks. This can also serve as stock photos and video for your portfolio. It only takes a few more minutes to shoot, but it can make a big difference in establishing a strong business relationship.
2. Working With A Commercial Real Estate Photographer Or Photography Studio
Throughout my corporate sales career and my short 7 years in the Drone Services business, establishing strategic partnerships is incredibly effective. Specific to the real estate vertical, I started out by connecting with real estate photographers in my local community, or market A quick Google search can identify at least 2-3 options, either individual freelance photographers or professional photography studios. While some may already have a drone or drone pilot on staff, which is becoming more common, they will still be open to partnering with you, especially if you represent yourself as a passionate Drone photographer. As a Certified Part 107 Drone Pilot, it's appropriate to ask if their drone pilots are certified for commercial drone operation. If they're not, or if they're not sure, offer a friendly explanation of FAA regulations regarding commercial drone operation.
Partnering with a photographer or studio has several benefits. For example:
Expand Your Reach – by joining with a photographer or studio that has an established clientele, can provide an increase in opportunities.
More Business – your drone services can be "bundled" with their photography which again increases your work base, and your reputation.
Imagery Processing – the photographer will likely wish to process your drone photos and video along with theirs, making it a quick and easy project.
Pricing and Expectations Real Estate Partnerships
While I enjoy these types of partnerships, there are some things to expect, like pricing. Because they're bundling your services with theirs, they'll likely ask for aggressively discounted pricing. This used to bother me, but I now view it as a commission or finders fee since they're bringing in business that I wouldn't have otherwise received. I also consider how much these partners have helped me grow my business in the community. Additionally, they may want to process your drone data alongside theirs for consistency. While it's one less component for me to worry about, it's important to find a comfortable arrangement for both you and the partner/client. I also learned a lot from working with them in terms of best practices for shooting real estate in general.
Billing Strategies for Real Estate Partnership
For billing, I treat these clients differently than I do my direct-agent transactions. Once pricing is agreed upon, I go out and shoot the property without a retainer. Some clients pay me on a per-project basis, while others bill me monthly. I recommend finding a comfortable arrangement with the partner/client. These relationships have proven to be both fun and lucrative.
Working as an On-Demand Drone Operator
Another type of real estate partner are companies that hire freelance drone operators to capture aerial photos and videos for their clients.. As a freelance drone operator, you can sign up with these companies and they will send you jobs in your local area. These can provide supplemental wok in between your normal client business. One of these that I have worked with is DroneBase. You can sign up with them as a freelance drone operator, and they'll deploy you on projects at their set rates. HouseLens is another firm I've joined, which is focused on insurance and real estate performing on-demand photography. They pay good rates for freelance drone operators.
3. Hiring in as a Staff Drone Pilot
Another way Realtors are hiring Drone Pilots is by offering you a staff position or direct employment. Working as an employee can provide stability and benefits, such as health insurance and retirement plans. Additionally, you may have access to more resources and support from the company you work for, such as marketing and equipment. As a staff drone pilot, you will likely have a set schedule and regular paycheck, which can be appealing for those who prefer a consistent income.
On the other hand, working as a freelancer (my personal preference) can offer more flexibility and autonomy. As your own boss, you can set your own rates, choose your clients and projects, and work on your own schedule. Freelancing also provides the opportunity for potentially higher earnings, as you can negotiate your rates and take on multiple clients simultaneously. However, as a freelancer, you will need to handle your own marketing, accounting, and equipment expenses.
Ultimately, the choice between working as an employee or freelancer comes down to your priorities and preferences. If stability and benefits are important to you, a staff position may be the way to go. If you value flexibility and autonomy, freelancing may be a better fit. Whatever path you choose, remember to weigh the pros and cons carefully and make the decision that aligns with your goals and values.
Real Estate Photo and Video Deliverables
Processing your Drone photo and video imagery is just as important as being a licensed and skilled drone pilot. Real estate photo and video is ultimately the product that the client is paying for. For me, in the beginning I had to do a quick deep dive and educate myself on how to process the imagery. I use the Adobe Creative Cloud Creator products such as Photoshop, Premiere Pro, and others to produce my photos and videos. These tools are super intuitive, and there are limitless free tutorials available online.
However, if you prefer to outsource this part of your service, you can utilize resources like Upwork and Fiverr to hire freelance photo and video editors. These resources can be found all around the world at extremely good rates. You can hire these personnel over the platform and pay upon the delivery of the work to your satisfaction. Personally, I enjoy processing the imagery too much to outsource it, but I understand the appeal of wanting to focus solely on flying and capturing the data.
How I Deliver My Photo and Video Client Media
As a drone photographer/videographer for real estate, it's important to have a reliable and efficient means of delivering your final data to your clients. With data sizes usually in the GBs (gigabytes), email is not going to be an option. Personally, I utilize two methods for delivering my deliverables:
In-Person Delivery of a thumbdrive.
Cloud delivery (recommended)
In some cases, I find it beneficial to hand-deliver the data on a thumb drive. Although it's not always the most convenient for you or the client, but it does allow for that personal interaction with your client, which can help build trust and rapport.
That being said, my preferred and recommended method is cloud delivery. There are numerous options available for cloud storage, and for a long time, Dropbox was my go-to choice. Their plans are affordable, and the user interface is nicely intuitive and easy to manage. I simply upload the data to a designated folder, share the link with the client's email address, and they can then access and download the data to their own device.
In the last year or so, I have standardized on Google Drive. I discovered that across my various Google accounts, I have a lot of free storage capacity, so I am taking advantage of that. I also have a Microsoft account and use Microsoft OneDrive. Although it may not be as user-friendly as Dropbox, it's still an excellent option that is not difficult to manage.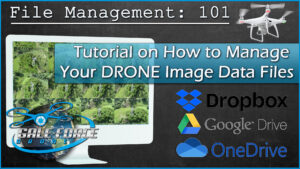 If you're interested in learning more about this topic, check out my YouTube video "File Management 101 | Drone Photo and Video Files and How to Manage Your Data" for a comprehensive guide on how I manage my data using free cloud storage and how I use it to share my deliverables with clients.
My Drone Recommendations for Real Estate

How To Get Your FAA Part 107 Pilot Certification
If you are serious about making money with your drone, whether it be Real Estate, Aerial Inspections, etc., then you will need, from the FAA a 14 CFR Part 107 certification.
The best source for your training can be found by clicking on RemotePilot101. Jason Schappert is a pilot and author of 8 best-selling aviation flight training books. While studying and taking tests is not the most fun, Jason breaks it down into 10 easy to follow (at your own pace) video lessons. These lessons are straight and to the point giving you the exact knowledge, nothing less, nothing more than what you need to pass the exam. Additionally, he is continually updating the training to keep it relevant to any changes to FAA regulations. This membership is a 1-time subscription – for life! So when you're 24 month renewal comes around, just sign in to RemotePilot101 and refresh your training.
Just remember, if you are flying commercially, you will need your Part 107 certification. It's not hard, you can do it!