Get Started Making Money With Your Drone Right Away!
In this article I talk about how I went from the purchase of my first drone, to going out and performing commercial drone service. My ultimate goal is simply to help you start making money with your drone right away!
Acquire Your FAA Part 107 Commercial Certification.

Identify the type of services you will perform.

Develop and Execute Your Marketing Plan.

Run daily training and practice exercises to perfect your service.
You just bought your new drone and you're already asking yourself, "Can I make money with my drone?" The answer is Absolutely!
Very soon after purchasing my first drone, I discovered a passion for flying and aerial photography. There are opportunities all around you to provide aerial services, and you don't have to invest a ton of cash to get started. Real Estate is by far the most popular entry point into the business. You can partner with real estate agents, or contract with established real estate photographers to provide aerial photography.
Within 6 months, not only did I complete my FAA Part 107 Drone Certification, but I landed paying work with a Property Management Company.
If you are serious about the question, "Can I make money with my drone?" you should continue reading. After buying my first drone, I launched my drone services startup with almost no money up front. I am eager to share my experiences, good and bad and sincerely hope to help you launch your drone business!
How I Started My Drone Services Company
When I bought my very first drone, I had no thought or intention to launch a new business; or new line of work for that matter. In fact, I had a great day job! Looking back, I can see that I was unhappy, but I was under the impression that with 25+ years in a successful corporate career, I just needed to grin and bear it! Little did I know that I was about to change my whole life! I share that with you because it is relevant to the story as a whole.
Upon deciding that I wanted to make a go of the concept of putting my newfound passion to work, I began studying the business prospects of the drone industry. At the end of this article, I provide a checklist  that you can follow to set up your operation and get your new drone business off the ground. Pun intended!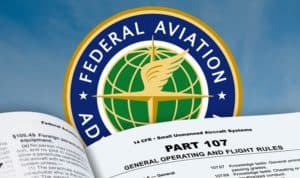 The first thing I learned right away, was directly related to the FAA and the rules and regulations for operating a drone for commercial purposes. This is defined as direct payment for drone work, or the furtherance of a business. Back then in 2016, there was actually quite a bit of drama surrounding the drone industry. With the exponential rise of drone technology and the massive increase in hobbyist drone sales, there was a lot of concern from within the drone community, as well as concerns outside the drone communities relating to safety, and more importantly, privacy. Without getting too deep into a history lesson, the FAA introduced a new drone certification called Part 107 that became a requirement in August 2016 to fly commercially. This Part 107 also replaced any previous FAA certifications.
The good news for you is that it's not that difficult to study and pass the exam. I signed up for an online video course, studied for a few weeks, then tested and passed the FAA exam. I will list my recommendations and costs below in the checklist.
Since I had already purchased my DJI Phantom 4 drone, which was cutting edge at the time, all I needed was a few peripheral accessories to outfit my rig properly for a legitimate commercial shoot. I did some research to see what other drone guys were doing, the gear they were using, and narrowed it down to a few things I needed to get started. I will detail these items in the checklist.
In keeping with the timeline of this story, I was still working my "day job", but if I was going to treat this concept seriously, I realized there were a few things I needed to get done. I mentioned at the top of this article about developing my marketing plan, so one of the first things I did was launch a website and purchased business cards as well as creating a small portfolio of my work to use as a sales packet. I did just that, and while I would be out and about performing my day job duties, I would pop in to real estate offices, introduce myself and drop off my card. For my website, I called in a favor from a friend and he and I worked out a deal to build a website and establish a business email account. Looking back, that was a terrific arrangement, with my upfront costs being literally $0. As a side note, he was later compensated by a commission percentage. I strongly urge you to have a website implemented and set up social media. In this business, marketing is imperative to establishing your brand early on. Even if you don't have a friend who can help you, setting up a website is not terribly expensive. I will list my suggestions for establishing a website in the checklist.
As part of my quick study to the drone business, one thing I heard over and over was to invest time in practicing flying. In fact, right before I got my first paying job, I actually crashed my drone into a treetop and had to send it in for repairs. Thankfully, I had invested in the insurance so the costs were covered. Obviously, flying the drone is something I emphatically enjoy, so practicing was and continues to be the easiest part of the equation. Although, I should mention, even after 4 years, I still need all the practice I can get!
To proceed with my little story, in 2017, I did in fact, resign my day job, and ALL within only 6 months of starting my drone company! I will not pretend that it has all been easy-squeezy, and like anything worth achieving, has had it's ups and downs. However, I truly believe I made the right decision for me and my family. There are some things I would like to do differently, which is the very reason I am writing this story for you.
My First Paying Drone Job

In early 2017, I was contacted by a Property Management company who found my website. We scheduled a meeting and they contracted me to perform all of their aerial marketing and inspection photo/video for all of their properties. I should mention that as part of my "About" page on the website, I detailed a personal story about how and why I got into the drone business, and the client told me that was specifically led him to call me, and ultimately sign me as his drone services provider. They were my first client, and remain to be one of my satisfied customers.
Other recommendations I would offer you in getting your drone business started, would be to reach out to professional photographers who specialize in real estate. You can often engage with them either by handshake, or by contract to perform aerial photography for them. Depending on the city or market you are in, you will need to seek these companies out. In my case, I was able to certify with a company called HouseLens. They are based in Nashville Tennessee, but cover national markets. They are great to work with and compensate their photographers generously. All of that said, you may not get rich doing real estate aerial photo/videography, but it is a good way to generate revenue and hone your skills.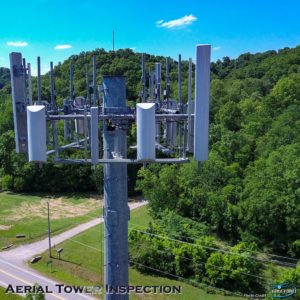 Other projects I performed with minimal specialized skills or equipment were cellular tower, powerline and tower inspections, as well as solar inspection, construction sites, corporate events and a variety of others.
The bottom line is that with real determination, diligence and minimal cost, you can start your own drone business.
Please continue to see my "Start-Up Checklist" below!
Your Drone Company Start-Up Checklist
1) Acquire Your FAA Part 107 Commercial Certification
Below are my recommended drone and peripheral accessories (be sure to verify compatibility)
How To Get Your FAA Part 107 Pilot Certification
If you are serious about making money with your drone, whether it be Real Estate, Aerial Inspections, etc., then you will need, from the FAA a 14 CFR Part 107 certification.
The best source for your training can be found by clicking on RemotePilot101. Jason Schappert is a pilot and author of 8 best-selling aviation flight training books. While studying and taking tests is not the most fun, Jason breaks it down into 10 easy to follow (at your own pace) video lessons. These lessons are straight and to the point giving you the exact knowledge, nothing less, nothing more than what you need to pass the exam. Additionally, he is continually updating the training to keep it relevant to any changes to FAA regulations. This membership is a 1-time subscription – for life! So when you're 24 month renewal comes around, just sign in to RemotePilot101 and refresh your training.
Just remember, if you are flying commercially, you will need your Part 107 certification. It's not hard, you can do it!