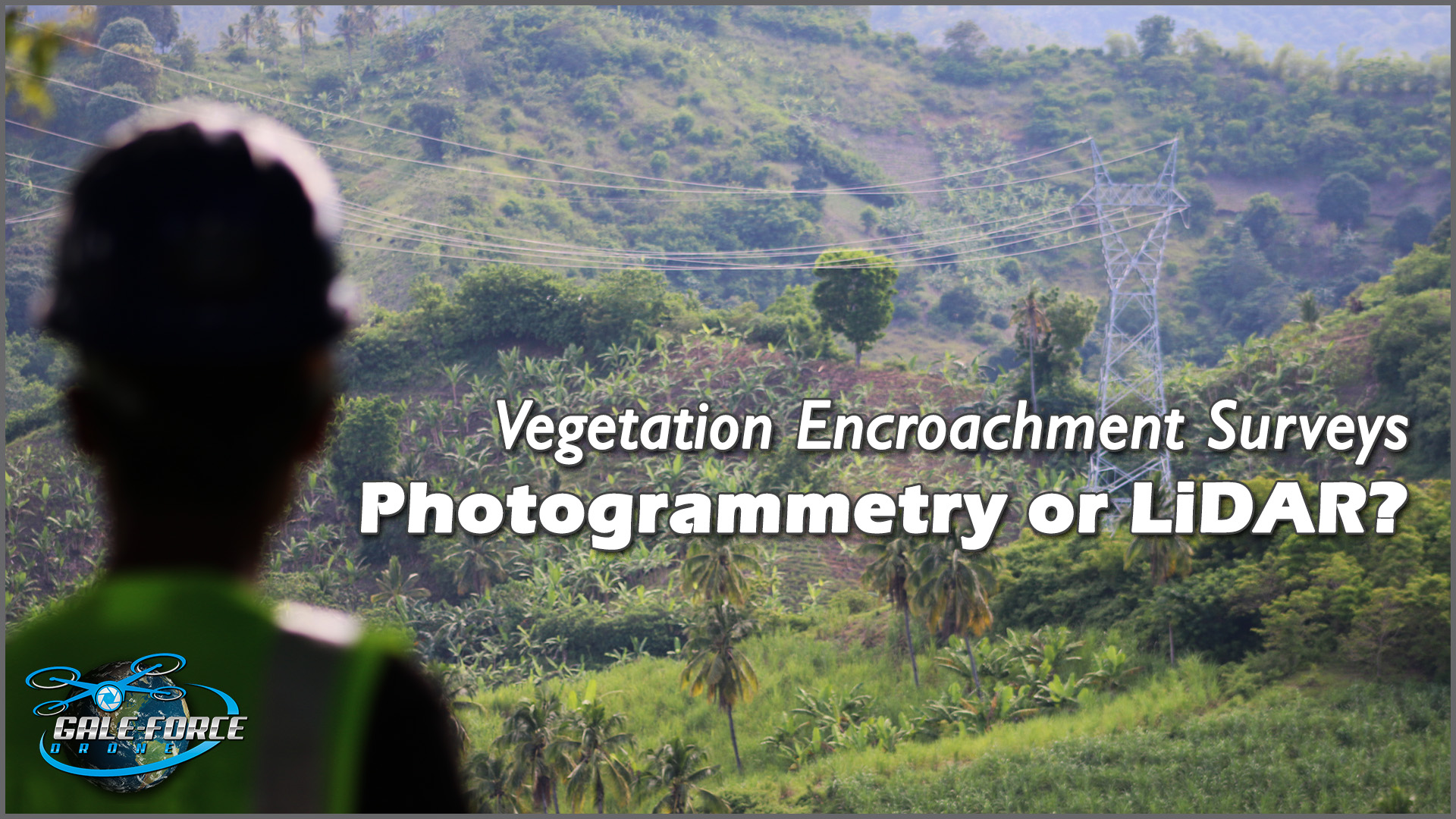 The choice between photogrammetry and LiDAR for encroachment surveys depends on various factors such as the survey area, required accuracy, and project budget. Both technologies have their pros and cons, each producing accurate and useful data for vegetation encroachment detection. While LiDAR is typically better suited for capturing data under dense canopies, photogrammetry can be a more cost-effective option for smaller areas. Ultimately, the choice between photogrammetry and LiDAR should be based on the specific needs and constraints of the project.

The Cost of providing Encroachment Survey Services
Providing Vegetation Encroachment Surveys can be a valuable offering for drone startups, but it's important to carefully consider the costs involved. One of the major factors to consider is the cost of the equipment and technology needed to conduct accurate surveys. LiDAR equipment, for example, can be quite expensive, and may be out of reach for startups with limited budgets.
One way to minimize the cost of providing vegetation encroachment surveys would be to leverage the drone you own, and perform photogrammetry as opposed to LiDAR. Photogrammetry can be conducted using a much less expensive drone and sensor, while at the same time giving you the ability to generate accurate 3D models of terrain and vegetation, ultimately making it a more cost-effective option for drone service startups. LiDAR is something we can, and should look at as our business grows.
Another cost factor to think about are the potential costs of the data processing and analysis. Regardless of which technology is used to conduct the survey, the data collected must be processed and analyzed to create meaningful insights for your client. This can require specialized software and/or software subscriptions, which adds to the cost of the project. To keep costs affordable, drone service startups will need to look at 3rd party data processing services that specialize in processing the data as well as the analysis and reporting. Check out Precision Hawk below.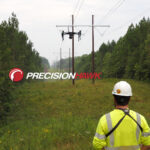 Precision Hawk provides an analytics platform for data processing for vegetation related incidents that are a common cause of outages. Trees obstruct power lines, while dense foliage and overgrowth impede inspections and repairs. Dry brush near electrical assets poses a fire hazard, and overgrown foliage provides animals easy access to power lines.
Offering vegetation encroachment surveys can be a valuable revenue stream for drone service startups, it's just important to understand the costs involved and jump into it at a more cost-effective level using photogrammetry. By using the drone you own, and balancing the cost data processing, drone service startups can provide high-quality deliverables at a competitive price point.


Understanding LiDAR and Photogrammetry
LiDAR (for Powerline Vegetation Encroachment Surveys)
Light Detection and Ranging (LiDAR) technology uses laser pulses to create accurate and precise 3D models of the environment. In Powerline Vegetation Encroachment surveys, LiDAR creates a detailed and high-resolution models of vegetation height and density, which can help identify encroachment zones with great accuracy. However, LiDAR equipment can be quite expensive, which can make it difficult for new drone startups to adopt.
The per kilometer for cost LiDAR Powerline Vegetation Encroachment surveys can vary widely depending on a number of factors, including the size of the area to be surveyed, the complexity of the terrain, the type of Drone and LiDAR technology used, as well as the level of detail required in the survey. That being said, a rough estimate for a LiDAR Powerline Vegetation Encroachment survey can range anywhere from $1,500 to $5,000 per kilometer.
*It's important to note that this estimate is for reference purposes only, and actual costs may vary based on the specific project requirements and the service provider.*
Photogrammetry (for Powerline Vegetation Encroachment Surveys)
Photogrammetry: is the process of creating 3D models using a series of overlapping images captured by a camera. In powerline vegetation encroachment surveys, photogrammetry creates an accurate and detailed 3D models of the terrain and vegetation, which can help identify encroachment zones. While photogrammetry may not be as accurate or detailed as LiDAR, it can be more cost-effective and practical for small to medium-sized surveys, making it a popular option for new drone startups.
The per kilometer cost for a Photogrammetry Powerline Vegetation Encroachment survey can vary depending on several factors, including the size of the area to be surveyed, the level of detail required, and the type of drone and camera used. As a rough estimate, this survey can cost anywhere from $500 to $2,000 per kilometer.
*Photogrammetry may not provide the accuracy levels that LiDAR does, just be sure to understand the trade-offs between accuracy and cost when deciding on the appropriate technology for a given project.*

Starter Guide: Powerline Vegetation Encroachment using Photogrammetry
Since LiDAR based surveys might be cost-prohibitive for drone service startups, using Photogrammetry offers a more affordable alternative to help you get started conducting Powerline Vegetation Encroachment surveys.
In this section, to help drone service startups navigate this process, we've put together this brief operational guide for conducting an encroachment survey using photogrammetry. We cover the basic steps from flight planning, and data processing to how we price it to the customer.
Typical Standards for Data Acquisition:
Type of drone is unimportant (Multi-Rotor or VTOL/Fixed-Wing)
Drone should fly in linear motion parallel to line
2 runs is enough, but 4 is recommended to obtain the best data set
63 meters above ground level (AGL)
20-megapixel resolution camera
Image resolution must be 1-2 cm
It is recommended to fly the survey during daylight hours to ensure that your image data is well-lit and capture every detail of the asset(s).
Also, to ensure accurate and consistent results, it's best to fly photogrammetry surveys using pre-set automated flight missions. There are several flight apps available that can be used for this purpose, including UgCS for example.
The process of capturing data for photogrammetry surveys will typically take longer than LiDAR. This is due to the need for a certain amount of light to achieve high-resolution photographs, and the need for 2-4 runs for photogrammetry compared to LiDAR's single run. It's  also worth noting that while LiDAR can operate during periods of low or no light, these operations may be restricted, requiring BVLOS  or night-time flying waivers.
To capture data for a 1-kilometer span with four runs using a DJI Mavic Air 2S, the estimated flying time is 30 minutes. Once the data is captured, it needs to be uploaded to third-party data analytics for analysis.
Approximate Data Processing times:
Powerline detection 40 Kilometers/day using one operator
Powerline detection + point cloud 15 Kilometers/day using one operator
*Processing times are typically shorter for LiDAR since the data is largely processed during the flight. However, photogrammetry surveys provide visible images of trees and lines instead of point clouds, which require further post-processing.*
When using photogrammetry software, there are several possible distance measurements to consider, such as distance from wires to ground, sag of the wires, and distance from vegetation to line. While the accuracies can vary, the distance between vegetation and wires will usually be the primary concern, and this measurement will be expected to have an accuracy of approximately 10cm or better.
After conducting a "real-world" proof of concept, the client provided the following feedback: "It was absolutely correct. We measured, and the accuracy was verified on the whole line." The survey was conducted in the fall when most trees were nearly leafless, yet even the smallest branches were detected by the software. When asked whether they would have preferred the accuracy of LiDAR, the client responded that the data they got from photogrammetry was more than sufficient. They elaborated to say that the added accuracy provided by LiDAR was not necessary for this project.
For most clients, photogrammetry has the potential to provide sufficient detail for it to be the best solution for the cost. However, some projects may have different requirements better suited for LiDAR solutions.
Data and Reporting Deliverables
As the Drone Service Provider, it is crucial to keep in mind that for the client, the value of photogrammetry lies entirely in the data deliverable and the action items that are derived from the survey. They have little interest in what drone we flew or the weather conditions during the survey. And by delivering the client data via a data analysis platform is key to providing the most useful and actionable information.
By providing workers with access to the digital version of the data, they can pinpoint the exact GPS coordinates of a tree needing trimming. Identifying problematic areas that are difficult to access in advance is especially useful, as some parts of the line may traverse challenging terrain, such as swamps or mountains. This also allows for proactive coordination and reduces the time spent correcting vegetation overgrowth areas.
The data is the most important part of our work. Providing clients with actionable data that they can use to remediate areas of concern is the ultimate goal of our photogrammetry surveys.

As I wrap up, it's clear that the data deliverables are the most important aspect for our clients, the actionable data we provide will be uses to make informed decisions.
Is Photogrammetry a viable replacement for LiDAR in encroachment surveying?  While a LiDAR survey may be required by the client in order to capture specific data, Photogrammetry is absolutely a viable option and may very well be accurate enough to satisfy the data requirements your client needs.
If the cost is a factor, Photogrammetry is the more cost-effective option, making it a great solution for clients looking to save on costs. Additionally, while LiDAR may be slightly faster in obtaining and processing data, the time difference is negligible when it comes to routing maintenance tasks.
In conclusion, we can confidently say that Photogrammetry is a viable alternative to LiDAR for vegetation encroachment surveying. I hope that this has provided valuable insights for those in the industry and demonstrated the power and potential of Photogrammetry as a valuable tool for data-driven decision making.

What is photogrammetry and how is it used for vegetation encroachment surveys? Photogrammetry is a method of capturing precise measurements of objects and landscapes using aerial photography. For vegetation encroachment surveys, photogrammetry can be used to create detailed 3D models of the surveyed area to identify areas where vegetation is encroaching on power lines or other infrastructure.

How is photogrammetry different from LiDAR for vegetation encroachment surveys? LiDAR uses lasers to create a highly accurate 3D map of the surveyed area, while photogrammetry relies on aerial photographs to create a 3D model. LiDAR can be more accurate but also more expensive, while photogrammetry can provide accurate results at a lower cost.

What kind of data can be gathered using photogrammetry for vegetation encroachment surveys? Photogrammetry can be used to collect various data, such as vegetation height, distance from infrastructure, and density. This data is then processed and analyzed to identify areas where vegetation needs to be trimmed or removed to prevent encroachment.

What are the benefits of using a cloud-based platform for processing photogrammetry data for vegetation encroachment surveys? A cloud-based platform allows for easy and efficient data processing and analysis, as well as data storage and sharing. It also provides real-time access to the data for all relevant parties, making it easier to coordinate and prioritize maintenance efforts.

How does DSM/DTM apply to a vegetation encroachment survey? DSM (Digital Surface Model) and DTM (Digital Terrain Model) are types of 3D models that can be created using photogrammetry. DSM includes all objects on the surface, including vegetation, while DTM shows the bare earth surface. These models can be used to accurately identify areas where vegetation is encroaching on infrastructure and to plan maintenance efforts.

What is an SDK and why is it important in a drone for vegetation encroachment surveying? SDK, or software development kit, is a set of software tools that allow developers to create custom applications for a specific platform. In the context of drone surveying, SDK can allow users to customize the drone's functionality and control how data is collected and processed. For example, SDK can allow users to define flight paths and parameters for collecting vegetation data, or to develop their own algorithms for data analysis. Having an SDK on the drone can be important for vegetation encroachment surveying as it allows for greater flexibility and customization in the surveying process.
Does the DJI Mavic Air 2S have SDK capabilities? Yes, the DJI Mavic Air 2S has a software development kit (SDK) available for developers to create custom applications and features. The DJI SDK provides access to the drone's flight control system, camera, sensors, and other features, allowing developers to create custom apps that can perform tasks such as automated inspections, mapping, and surveying.