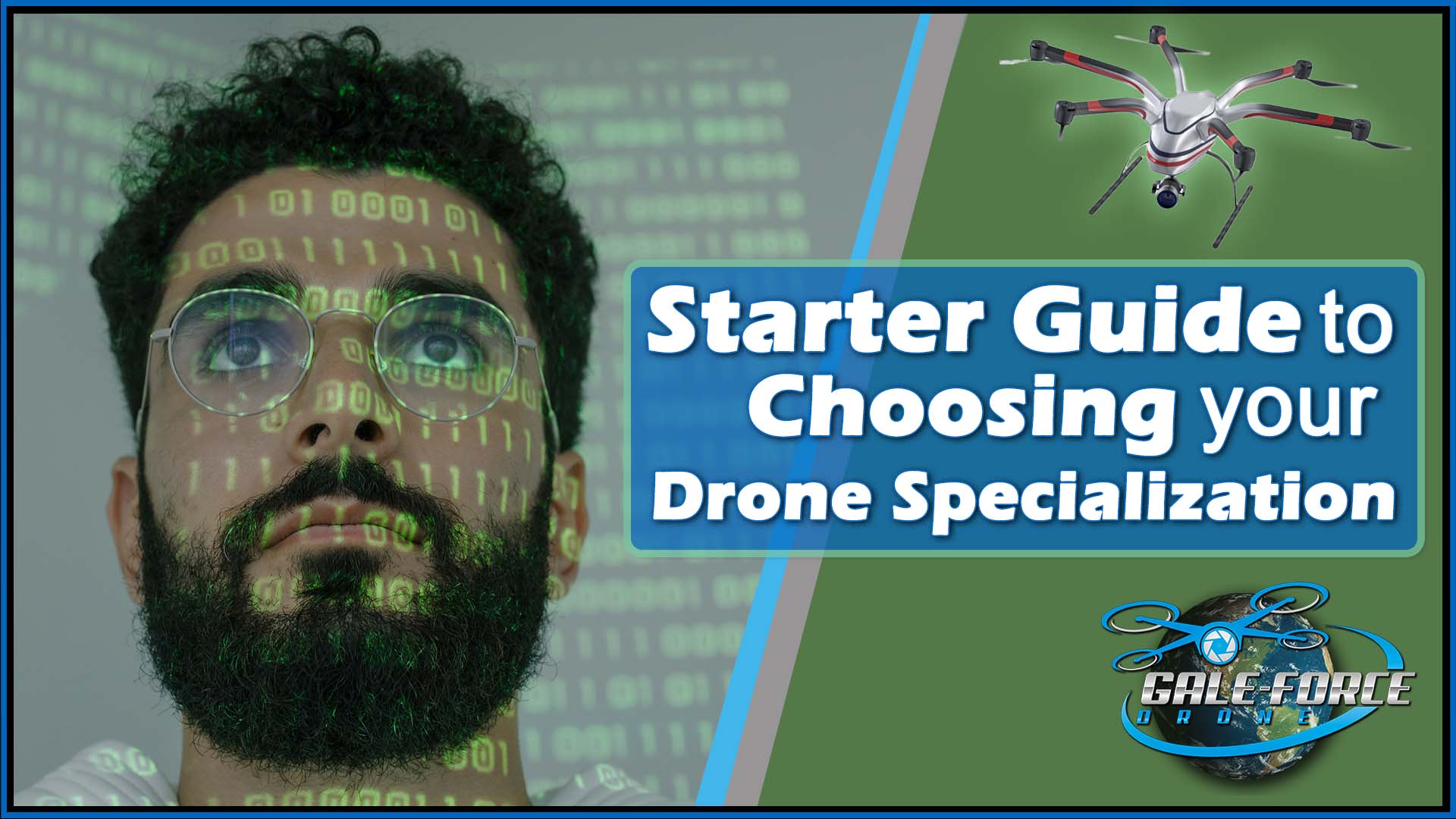 You might be wondering, "How do I choose my specialization, or what services I should start out offering?" With so many possibilities, it might be a little overwhelming to know where to begin. Very often, the key to our success is hiding in plain sight. Take inventory of what you already have. Your talents and skills, your interests and passions, coupled with the drone you already own can be the ingredients that will help you choose your Drone Services Specialization!
When I bought my Phantom
4 back in 2016, I had no idea the that I would be getting into the drone industry, much less know what my drone specialization might be. Now after a few years working in the drone industry, I can offer some expert recommendations and this starter guide to choosing your Drone Specialization!

Market Research; Look for Opportunities in your local Market
The term "Market Research" is just a fancy way of saying that we should start looking for Opportunities or Gaps in your area. In our case, looking for these opportunities within our local community is a great way to help us decide what our drone specialization might be. Doing some market research to see what industries need our drone services; such as construction companies, power coops, or even government agencies such as the fire department, and other emergency services will definitely have need of drone services.
Personal Network – When I first started out, I checked in with business friends who were involved in real estate, which led to meeting other professional photographers. I was amazed by the domino effect and how easily one person would lead to being introduced to others and new opportunities. 
Community Organizations – we can also extend our research by getting involved in community groups like the Chamber of Commerce. I joined our local Chamber of Commerce and within a few days I was getting inquiries from other members asking me about my drone services! It is a great way to speak to other business owners and entrepreneurs to learn about opportunities and help in choosing what your Drone Specializations might be and tailor your services offering to meet the demand and find quick success!

Use your Interests to help Choose your Drone Specialization
I often encourage my consulting clients to pursue their passions before anything else. We have an instinctual drive when we are operating within or in pursuit of our interests. As a great example; one of my clients has a deep interest in the emergency response industry. He is a young man in his early 20's, and serves as Safety Officer for a drone service provider. He has  already accomplished specialized emergency response certifications, including his drone pilot certification. Meanwhile he is also training to get his manned aircraft pilots license.
By choosing a Drone Specialization that centers around our interests, we will be far more passionate about the work and will also enjoy ongoing learning and staying up-to-date with industry knowledge, technology and techniques that will naturally give us an edge on our competition. And that sort of dedication can and will only lead to success. 

Leverage your Skills to Choose your Drone Specialization
When I first decided to start my Drone Services Business, I had no idea what drone skills  I would need and I really didn't know anyone to talk to either. These days, we have easy access to free resources to help guide us and discover our hidden talents and develop those into viable skills.
Another consulting client contacted me about starting his own Drone Business. He is a career lineman in the power industry which gives him a very strong skillset that he can leverage to perform drone inspections for power companies. By leveraging our experience and expertise, we can easily determine what  specialization to lead with and put our skills to work and differentiate ourselves in the industry. 
Some other examples could be if your background is in engineering, you might consider offering specialized services such as industrial inspections or construction site monitoring. If you have a background in photography, you can look at specializing in aerial photo and video for real estate, marketing agencies, event planners and many others.
By leveraging our personal talents or acquired experience and skills, we will be more efficient and effective, providing the highest quality deliverables and position ourselves as the "go-to" expert in those areas of the drone services industry, growing our reputation and ultimately our business. 
Check out my article "How to Choose Your Niche as a Drone Startup".

Budget Considerations when Choosing your Drone Specialization
Costs are another and equally important consideration to factor in to choosing your drone service specialization. Let's look at this from 2 different angles. The 1st would be starting out with the drone I already own. Even if I already own a drone, I still need to think about what accessories, or peripheral equipment and materials I will need to conduct a flight mission. Then there's insurance to cover you, your equipment and your clients property in case of any unforeseen incidents or accidents.
Then, important to getting clients and work, we need to think about marketing costs. If we are starting out with a limited (or no) budget, this might affect what specialization we choose.
The 2nd scenario could be that we have a good budget to start out with, giving us some room to allocate funds for the various costs involved. Below is a short list of things to consider. 
Equipment – the proper drone, equipped with the sensor(s) you need to perform the type of service you want to specialize in. 
Accessories or peripheral components needed.
Any licensing or special certifications needed.
Insurance to cover your equipment, the client property and any other insurance that might be required.
Marketing costs
Check out my article "Which DRONE do I need for my Drone Startup Business?" where I get into a lot of detail about drone platforms and how to choose the right setup for your drone specialization.
Pilot Certifications and Operational Waivers to think about
As you begin to narrow down to your choice of Drone Specialization, you may need to think about specialized certifications and waivers you will need to perform said services. It's important to note that *this can vary greatly depending on the country we operate in*. Here in the U.S., the primary certification we need is the FAA Part 107 pilot certification. This is needed for ANY commercial services that are paid for, or are intended for the furtherance of business. 
Waivers and Authorizations: A waiver is granted by the FAA, allowing us to operate a drone by methods that are not allowed under the standard Part 107 regulations. For example, if you want to fly a drone at night or over people, you'll need to obtain a waiver from the FAA. As I mentioned before,  these requirements can vary depending on the country, state or local laws or regulations.
The process of getting a waiver can vary depending on the specific operation you're needing to perform. The FAA has an online form where we can apply for a waiver, as well as providing guidance on what to include in the application.
 Just make it a part of your diligence to verify what waivers and/or authorizations are required for the drone services you want to provide. You will also want to budget for the costs to obtain these.
The most common waivers that you may need to acquire are:
Flying in restricted airspace stadiums and sporting events, on or near airports, military bases or any security sensitve airspace.
§ 107.25 – Fly from a moving aircraft or a vehicle in populated areas
§ 107.29 – Fly at night without anti-collision lighting
§ 107.31 – Fly BVLOS or beyond your ability to clearly determine the position, altitude, attitude, and movement of the sUA, with unaided vision
§ 107.51 – Fly over 400 feet above ground level (AGL)
§ 107.145 – Fly over moving vehicles
The process of applying for a waiver can take time, so be sure to plan ahead and allow a window of time in advance of when your operation is scheduled.
And lastly, as members of the drone community, we should want to maintain a respect and compliance to our regulations and laws.

Soaring to new heights with your Drone Services business is well within reach. This starter guide will help you choose the right drone specialization for your business, from identifying your strengths and passions to understanding the local market opportunities and budget considerations. I hope you have found the direction you need in my starter guide to choosing your drone specialization to set yourself up for success in the drone services industry!

At Scopito, we are experts at digitizing your assets. Our platform uses automation and Machine Learning to derive all-important insights from your geospatial data. Over time, your historic inspection data will become the catalyst for powerful predictive maintenance.