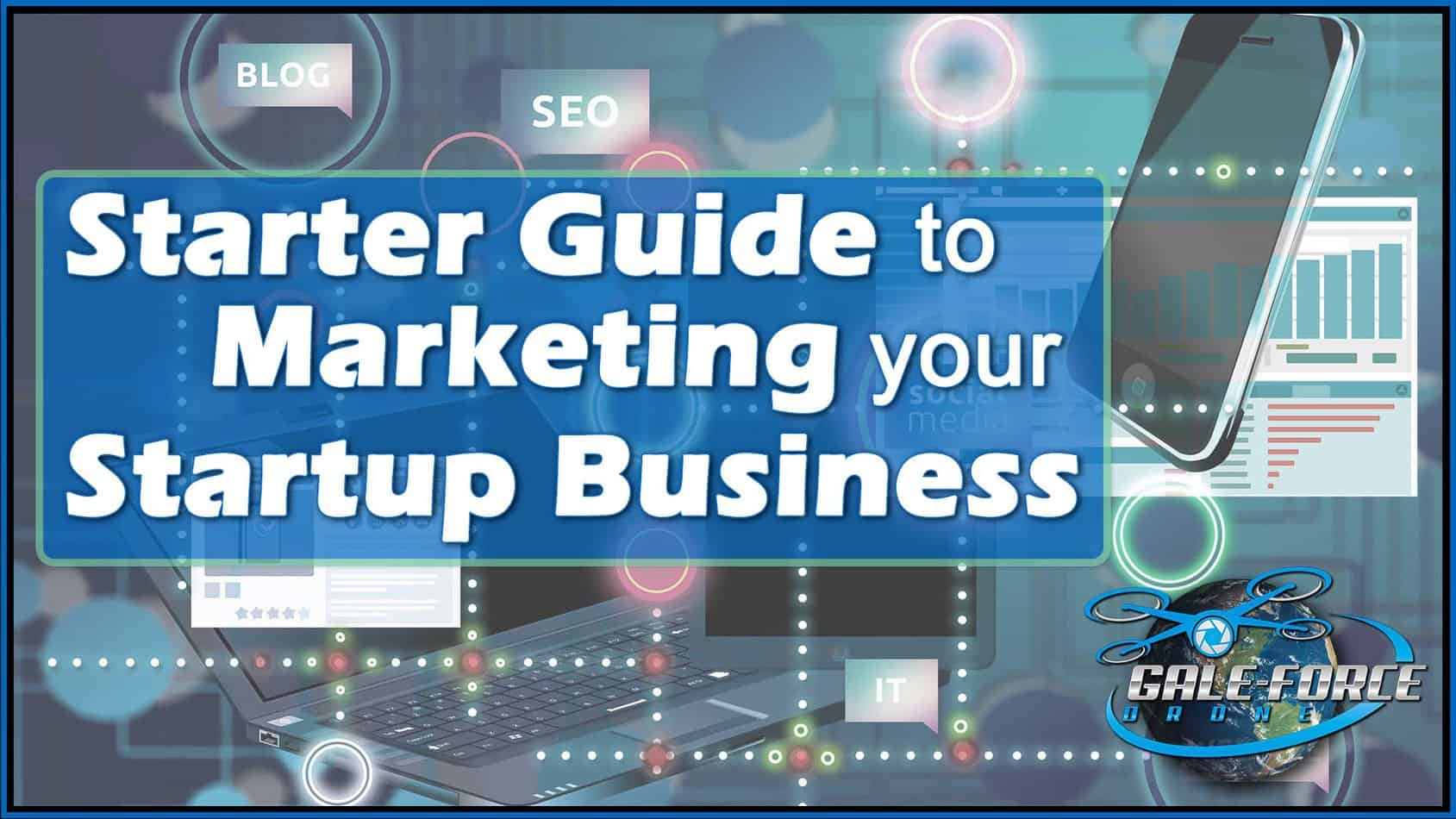 Starting a drone services business can be exciting, but if you don't like selling, marketing it can be a bit challenging. It is going to be essential to understand the target audience, the competition and how to differentiate your business.
Who am I? I'm a veteran sales guy with over 25 years in corporate sales, so marketing my new drone services business came very natural to me. In this guide, I will share my own personal experiences, and discuss key strategies and tips that you can do to successfully market your new drone services business.
To get started, I have listed some exercises for you to go through that will help you design the perfect marketing strategy and get your phone ringing and your email buzzing!

What is my Drone Service Specialization?
Something I have observed when talking to new aspiring drone service providers is that they may not know what niche service they want to specialize in. For example, he or she might be looking to provide inspection services for cell towers, which is a specialized service that can be in high demand from companies operating in the Telco or telecom sector.
Specializing in a specific niche market allows you to become an expert and better serve your clients, while also differentiating your services and targeting specific industries with your marketing efforts. 
As a simple "take-away", it's a good idea to know what your specialization is, then master it, maximize it. Try not to do too much too soon. Growth will come naturally with time and experience.
Check out my article "Starter Guide to Choosing your Drone Specialization" where I get into more depth and considerations for choosing the right drone specialization for your business.

Who is my Target Customer?
So, now that we've nailed down the specific drone service(s) we want to start out offering, it's now crucial to do some market research to identify the industries and businesses that would benefit the most from our services. By researching different industries and the companies within them, we will be able to determine our target audience, and tailor our marketing efforts accordingly. This way, we're not wasting time on marketing our services to the wrong audience, but instead, we're speaking directly to the people who will actually benefit from them the most. Plus, by narrowing it down to specific industries, we can position ourselves as industry experts, delivering high value data specific to the customer needs.
Once you have decided who your top 2 or 3 target customer types are, make a list of local companies that fall into the target category. You can then begin mining for contacts through LinkedIn and other online resources. Don't forget to talk to people you know, you'll be surprised by how well personal networks can work in your favor.
In my article "10 Startup DRONE Services For Your Drone STARTUP Business" I have provided some good guidance on how to identify your target customers and some ideas on how to earn their business.
Creating a Unique Selling Proposition (USP)
Creating a unique selling proposition (USP) is a key step in defining our services and differentiating our drone services business from our competition. It is important that we present the unique benefits of our services, highlighting what sets us apart. For example, if we happen to offer advanced mapping and survey services, we could highlight that as a USP, particularly if other drone service providers in the area don't have access to the same level of expertise.
Another potential USP could be our ability to provide quick turnaround times or our ability to provide custom solutions for a specific industry. Once we have identified our USP, we can use it as the foundation for our branding and story, ensuring that all of our marketing efforts communicate the unique value that we provide.

Creating a Solid Online Presence
Creating a solid online presence for our drone services business is absolutely necessary to present our brand to the marketplace and attract potential customers. Some of the first things to start building a strong foundation or brand image, can include a unique and identifiable logo, a professional bio and a well-designed website that is easy to navigate while effectively describing our services and showcasing our work. We should also optimize our website to rank well on search engines, increasing our visibility and creating a strong first impression on potential customers.
Another important online marketing strategy is to increase visibility in your local area, is by creating a Google Business page that will set your business to appear in Google search results and on Google Maps. In addition to Google, there are many local directories, like Yelp for example, where you can list your business, (think of it like putting up posters everywhere in your local area with your brand), making it easier for potential customers to find you. Additionally, you can optimize your Google Business page as well as the local directories by adding photos, videos, and detailed information about your services.

Local Networking and Partnerships
Networking and partnerships in your local area is a powerful way to get the word out about your drone services business. Make a point to reach out to your personal and business friends to let them know what you are doing, and ask them to promote your drone services business. You will also want to reach out to other business owners in your area and building partnerships with them can help get the word out about your services.
Easily the most impactful thing I did in the first few days was to drop in to my local Chamber of Commerce office. I really had no idea at that moment how much this would affect my business. I formed life-long friendships and the doors opened up to many different types of business that I doubt I would have gotten otherwise. This can help increase visibility and attract potential customers who are searching for drone services in your area.
As you join up with organizations like the Chamber of Commerce and others, there will be community luncheons and all sorts of events that will come up. ATTEND them. This will lead to making connections and building relationships with potential customers and partners.
And don't forget to look for opportunities to collaborate with other business, professional photographers, real estate agents, construction companies, caterers for events; the list goes on and on. 
One of the best ways to market your business is to showcase your previous drone work and attract potential customers is by creating a portfolio of your work. It's a good idea to create a dedicated page on your website that features high-quality images and videos of your drone work.
We operate in the age of social media, and what better way to showcase your work than by sharing it across various social media platforms. This will broaden your reach from local to global, and attract potential customers. 
Be prepared for spontaneous and informal meetings by creating a brochure that you can hand off on a moments notice. For the formal meetings, you will want to create a brief but comprehensive presentation (and keep it updated as your business progresses) that you will use when meeting with potential clients. 

FAQ (frequently asked questions)
Q: What is the best way to identify my service specialization and set my business apart from the competition?
A: The best way to figure out what your specialization should be can be as simple as 1) looking at your drone's capabilities, and 2) think about the type of work that you would enjoy doing. 
Q: How can I create a unique selling proposition for my drone services business?
A: A unique selling proposition (USP) presents the unique benefits that your services offer and how your services is different from the competition. Identify your USP by researching your competitors, understanding your target audience and identifying what sets you apart.
Q: How do I create a solid online presence for my drone services business?
A: Building a strong foundation, which includes an eye-catching logo, a professional bio, and a well designed website that effectively presents your services and showcases your work is key. Use social media platforms to showcase your work and build brand awareness.
Q: How can I use local networking and partnerships to promote my drone services business?
A: Leverage your local network and develop partnerships in your local  area to to get the word out about your drone services business. This can also be done by listing your business in local directories and using personal and business relationships to promote your services. Engage with your community by participating in local events and networking opportunities.
Would you like some Help? Watch this video!