If you are researching the best and most practical drones for PV Solar Inspections, the following are my top picks ranked by the combination of specs, ease of use and price. 
Parrot Anafi USA – Thermal 4K Portable Drone

Autel Robotics EVO II Pro RTK Thermal Drone

DJI Mavic 2 Enterprise Advanced Thermal Drone
The Evolution of Thermal Drones
As drone technology advances at the speed of sound, we are seeing new generations of drones coming to market on a daily, weekly, monthly basis. 
In the last 2 years, with the introduction of the DJI Mavic Enterprise Dual, we suddenly have a drone platform that is ultra-portable, and along with the integrated 4K camera, it also carries a thermal sensor. Now, it is important to mention that the thermal sensor, with it's 160×120 resolution, was not widely accepted because it did not meet the industry standard specs usually required for a PV Solar inspection. But it did make a great solution for emergency response and other applications where minimal thermal imagery was needed.
Other manufacturers were quick to follow; Parrot with their Anafi Thermal and Autel with their EVO II Dual. But similar to DJI, the thermal specs did not meet up to the industry standard requirements for PV Solar inspections.
These solutions left us to continue with existing technology; such as (for example) the DJI Zenmuse XT and XT2 attached to an Inspire or M200 drone. Fairly expensive solutions, not to mention bulky to transport and operate, when compared to the more portable drone platforms.
... the DJI Mavic 2 Enterprise Advanced
Since then, DJI has introduced the Mavic 2 Enterprise Advanced that has taken the portable drone platform to the next level. I was particularly excited about this as I was actually in the process of writing a proposal for an international client in India, to perform a large-scale PV Solar inspection in the Philippines. 
I needed to be able to provide a drone solution to a local drone team as part of the contract and this drone was exactly what we needed. Because of it's small size, it would not break the bank to ship the "drone kit" from the U.S. to the Philippines. And, it worked well with the team in terms of transporting to the location of the solar. Based on that story, you may jump to the conclusion that the M2EA drone is my top pick based on the criteria of this article. It's definitely in the top 3, but continue reading for my top recommendation and the reasons why. 

Mavic 2 Enterprise Advanced
– Key Features
1/2" CMOS, Effective Pixels: 48 M

FLIR Thermal Imaging Sensor (640×512 @30Hz)
RTK Module (optional)
5-Mile Transmission Range
31-Minute Max Flight Time
24GB of Password-Protected Storage
Spotlight, Speaker, and Beacon Included
Remote Controller Included

Let's take a look at the current drone standard
Up to this point, PV Solar operators, or DSP's (Drone Service Providers) are typically conducting drone inspections with the most common drone solutions. Such as…
DJI Inspire with a Zenmuse XT2 for visual and thermal inspection images.
DJI (Matrice) M200, M210 or M300, with various visual and thermal sensors. 
These, among many others, are terrific solutions. Robust, with rich feature sets and versatile with the ability to perform a wide spectrum of services. However, these solutions are quite expensive and can cost from an approximate $20,000 to $40,000, and beyond depending on the sensors, all of the peripheral gear, batteries, battery chargers, etc. that are needed.
One of the primary benefits, (and is often raised when discussing this topic) is relative to wind conditions. While the Mavic can handle heavy wind conditions to a great extent, it cannot compete with the Matrice 200 and 300 series drones. These drones are purposely designed to withstand winds that smaller drones may not be able to maintain rock-steady stability.
For most DSP's, PV Solar inspections are relatively easy to carry out. The flight plans can be flown autonomously, or manually, depending on the scope of the project. The image data can be analyzed internally, by the solar operator, or by an objective 3rd party analytics and reporting firm. 
To revisit the story I shared earlier, if the solar farm is abroad and we find ourselves needing to contract a drone team, we may discover a whole set of limitations that drive us to explore equipment solutions that are easy to ship, easy to transport and easy to operate. So, why not carry this further to using these smaller, more portable solutions on our home town projects.
Autel Robotics EVO II Pro RTK Thermal Drone
The next super portable that we are discussing is the Autel EVO II Dual. This drone is similar to the DJI M2EA in that it has a dual sensor with integrated visual and thermal sensors. 
Autel Robotics EVO II Pro RTK
–  Key Features
1/2 inch CMOS; 20M effective pixels, w/1-8x (Max 4x lossless) zoom

FLIR Thermal Imaging Sensor (640×512 @30Hz)
RTK Module
5.5-Mile (9 km) Transmission Range
36-Minute Max Flight Time
32GB of Password-Protected Storage
Spotlight, Speaker, and Beacon Included
Remote Controller Included

Is the BEST Drone the most Practical Solution?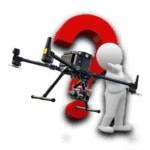 Speaking as a UAV or Drone strategist and consultant, I approach these discussions from a "big picture" perspective. I understand that O & M professionals who are managing their solar farms, as well as DSP's,  will all have varying opinions on this particular topic. I like to say that sometimes, the best solution may not be the most practical, and the most practical solution may not be the best. As I stated earlier, these determinations are really dependent on the specific requirements laid out by the solar farm operator in terms of what they need from the inspection. 
I have tremendous respect for the expertise that drone operators develop while working day in and day out in the field. There is no knowledge that can match with field experience. So in speaking from the drone operators perspective, I am not suggesting that any particular methodology or equipment platform is the ONLY way to go. Instead, I am offering that taking a look at these smaller drone platforms might, in some cases, be a more practical solution than what we are accustomed to with the bigger drones.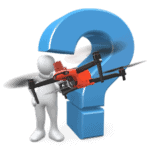 It could be argued that investing in these portable and integrated drone platforms could limit our capabilities and thus, our service offerings. It does seem that these drones are more purpose built, but… maybe not. In the list below, are many services that can be performed with these portable drones.
-Real estate

-Marketing

-Filmmaking

-Journalism

-Search and Rescue

-Energy

-Telecom

-Education

-Public safety

-Transportation

-Natural Disaster Response

-Crime Scene Mapping

-Insurance (claims adjusting)

 

-Infrastructure Inspections (Pipeline, Bridges, Railroads, Utility towers)

-Construction (site progress monitoring)   -Stockpile Measurement
Again, the best and most practical drones for PV Solar Inspections are determined by the client requirements, project scope, and factoring in transportation and travel variables or limitations. Simply said, bigger drones and the associated equipment may be best, but not as practical when compared to these ultra-portable drone platforms that can perform perfectly within the required specifications and scope of the inspection.

and... the Parrot Anafi USA Thermal Drone
My 3rd recommendation comes in at a lower price, and with a lower spec when compared to the DJI and Autel Robotics options detailed above. I list all of the technical specs for this drone below, but the biggest difference is with the thermal sensor. The industry standard resolution is 640 x 512, where this drone only offers 320×256. So what's the difference and why does this matter?
What resolution is best for thermal PV Solar inspections?
Here's what Flir says. There are a few considerations that will help you determine what resolution thermal sensor you need. 1) what you are shooting, 2) the distance you are shooting, and 3) how much detail do you need in the image. If you are trying to detect an anomaly, a single pixel might be satisfactory. If you need to be able to determine if the anomaly is a human or animal, a fire or embers, or in our case, a hot spot on a PV solar module, is when you will need the higher resolution. More pixels will help to identify more about the anomaly as well.
So, as I have already spoken to, there are varied requirements or expectations for a given PV Solar inspection project. Perhaps you are the owner of the solar farm, and you want to perform the inspections yourself, this drone will not hit the CAPEX budget as hard as the others, and it can actually deliver great visual and thermal imagery, and possibly all you need. 
Parrot Anafi USA Thermal Drone
– Key Features
1/2" CMOS, Effective Pixels: 21 MP

FLIR Boson Thermal Imaging Sensor (320×256)
2.5-Mile (4km) Transmission Range
32-Minute Max Flight Time
Remote Controller Included

In summary, the BEST solution is not always the most PRACTICAL solution, and begs us to take a real hard look at the real requirements of a job, the circumstances and any varying challenges that are part of any project. Then we can select the appropriate tools for the job. There can be other variants such as budget that can also factor in to making a decision on what equipment we need. I really do like these small drone platforms, and believe that they can be a powerful and effective way to streamline your project operations and maintain high customer satisfaction. Be sure to reach out to me if you have any questions or comments. My email button is included in this article.

At Scopito, we are experts at digitizing your assets. Our platform uses automation and Machine Learning to derive all-important insights from your geospatial data. Over time, your historic inspection data will become the catalyst for powerful predictive maintenance.
How To Get Your FAA Part 107 Pilot Certification
If you are serious about making money with your drone, whether it be Real Estate, Aerial Inspections, etc., then you will need, from the FAA a 14 CFR Part 107 certification.
The best source for your training can be found by clicking on RemotePilot101. Jason Schappert is a pilot and author of 8 best-selling aviation flight training books. While studying and taking tests is not the most fun, Jason breaks it down into 10 easy to follow (at your own pace) video lessons. These lessons are straight and to the point giving you the exact knowledge, nothing less, nothing more than what you need to pass the exam. Additionally, he is continually updating the training to keep it relevant to any changes to FAA regulations. This membership is a 1-time subscription – for life! So when you're 24 month renewal comes around, just sign in to RemotePilot101 and refresh your training.
Just remember, if you are flying commercially, you will need your Part 107 certification. It's not hard, you can do it!