If you're looking to start a successful drone PV Solar Inspection business, you've come to the right place. In this Starter Guide, you'll discover a step-by-step process for launching your new Drone Business with ease and efficiency. From purchasing the necessary equipment to building your expertise and marketing your services, we'll cover all the crucial elements that will make your business stand out in a competitive market. Even if you're just starting out, this guide will help you confidently sell and perform your services while attracting the right clients. So why wait? Let's get started on your journey to becoming a successful Drone PV Solar Inspection business owner today!
Solar Companies Need Aerial Inspections!

Solar energy is the fastest growing source of new energy in the world and the #1 source of new energy generation, with solar companies dedicated to operations and maintenance (O&M) for their solar plants. However, routine inspections of solar energy systems are often neglected due to cost. Solar companies need scheduled inspections of their solar farms to ensure maximum performance, but the traditional method of inspecting solar farms involves hiring contractors or to scan each panel for defective cells or cables is not only inefficient and time-consuming, but it can also result in critical issues being overlooked due to the possibility of human error.
As a sole proprietor looking to start your drone PV solar inspection business, you can be confident that you are perfectly positioned to perform this service for these companies. By utilizing drones for aerial inspections, you can deliver inspection reports that match with the largest and most well-known drone services providers at an affordable price. This article provides you with the basic steps you need to know to start your drone PV Solar Inspection Business and start serving the growing solar energy market.
Click here for my "Starter Guide to Market Your Drone Services Business" to help you market your Solar Inspection business.

Getting started in PV Solar system inspections is not difficult, nor is it expensive, however just like any business, you will need to acquire the basic essentials:
In the United States, you will need to obtain a Part 107 'Remote Pilot Certificate' license from the FAA to perform any drone inspections. Other countries may have different requirements for civil aviation certifications that you should also investigate.
To help you get started, you can refer to the startup checklist provided in my article "Can I Make Money With My Drone?" that includes the steps to acquiring your sUAS Pilot Certification.
Your Field Gear – Once you have the necessary certification, you will need to assemble the right gear to perform aerial solar inspections. You should start by identifying what you already own and then create a list of the additional equipment you need to round out your toolkit. Your drone will need to have the proper sensor to begin inspecting PV systems. Using the right equipment is essential to performing an aerial solar PV inspection correctly. I have written an article titled "Top 3 Prosumer Drones For Your Drone Startup Business", to assist you in choosing the right equipment for your operation.

In the next section, I will provide you with a list of affordable drone options that will allow you to capture thermal and visual inspection imagery necessary for solar farm inspections.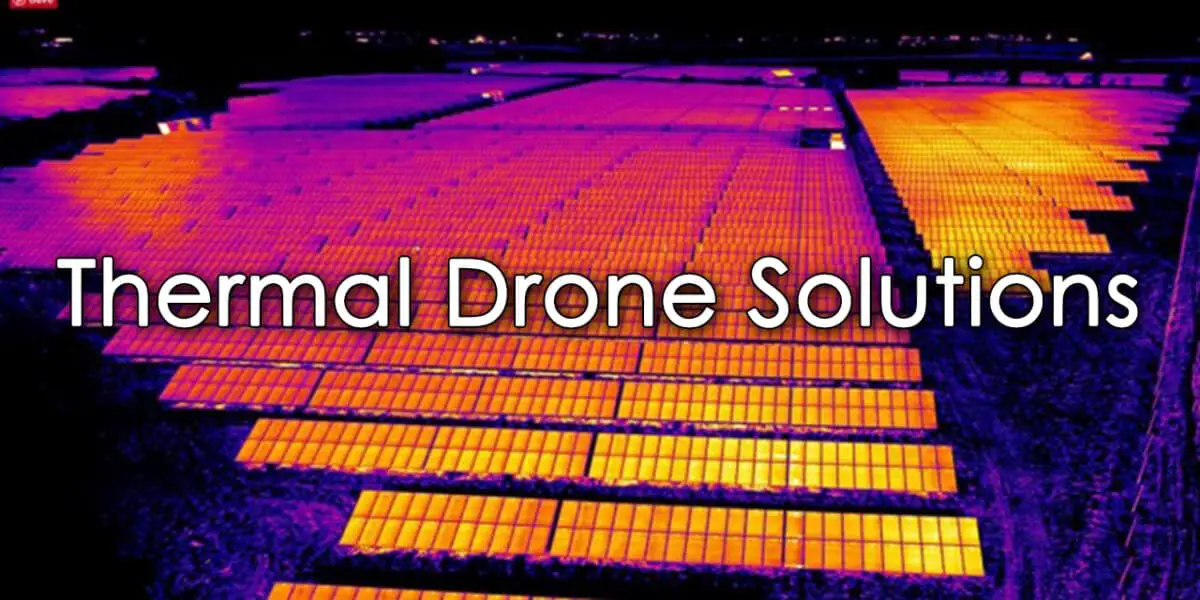 Thermal sensors are an essential tool for conducting accurate and effective solar PV inspections, but the cost of these sensors can be a barrier for new drone startups. Industry-standard manufacturers like
can be particularly expensive. However, there are more affordable options available that can help you get started without breaking the bank.
While it's possible to outfit an existing drone like a DJI Phantom 4 or Mavic Pro with a thermal sensor, the average cost of the sensor may make this option cost-prohibitive. That's why it's important to look for drones that come fully integrated with both thermal and visual sensors. This will allow you to start flying thermal inspections right away without having to make additional investments. In the following section, I will highlight three drones that are fully equipped with both types of sensors and are affordable for new drone startups.
One Option is the Parrot – Anafi Thermal Drone 4K (click below for more information)
Another Option – Autel EVO II Dual Thermal & 8K Camera (click below for more information)
My Favorite Option! The DJI Mavic 2 Enterprise Dual Thermal Drone (click below for more information)
There are many different ways you can gear up, and I suggest taking time to shop on eBay or other online resources for used equipment. You can equip yourself with a second-hand Inspire 1 or 2 with an XT2 and you're off to the races. The added benefit to going this route is that it opens you up to other services you can offer.

Now that you are equipped with gear, it's essential to establish a proper methodology for performing your drone inspections.
Fortunately, your first mission will only happen once! Then your next subsequent mission will improve based on the experience you gain, and as you continue, your efficiencies will improve until you have refined and established your standard methodologies for each of your services. 
One of the most critical aspects is to create a checklist that includes everything from client details and mission location to equipment and pre-flight planning.
Arrive at the location and begin the operation systematically, set up your gear, and launch your drone without rushing, even if the client or others are present. It's best to prepare in advance by researching the solar site and surrounding areas to identify any potential hazards or obstructions, including trees, transmission lines, and buildings.
Make sure to scout the site before the inspection, either by walking or with a quick flight, and look out for any potential hazards. Additionally, check for restricted fly zones like nearby airports or military bases and follow your local FAA guidelines to obtain a waiver if necessary.
It's also recommended to acquire flight insurance for the mission, which can be obtained from on-demand liability insurance coverage providers like Verifly. With time and experience, you'll develop standard methodologies for each of your services, refining your efficiency in conducting solar inspections.
In the following section, we'll discuss some high-level guidelines for conducting the solar inspection flight.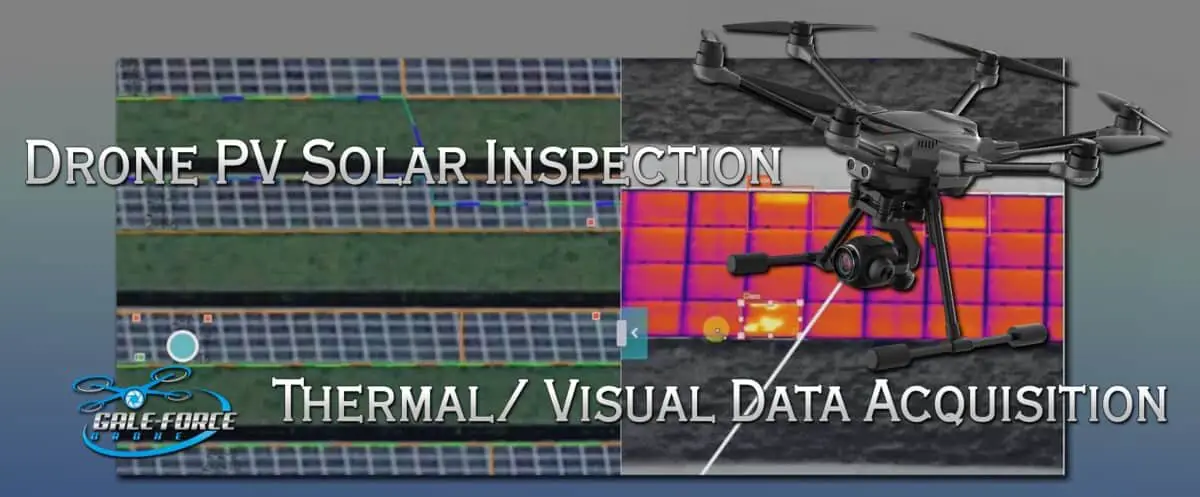 Solar Inspection | Data Acquisition
Alright! So, by this point you have been awarded the client contract; you have your equipment and you have your mission plan worked out, with all your checklists checked off. Now it's important to understand the methodology of data acquisition. This is the component that the client is paying for, and it's what will determine the value that you provide to them.Data acquisition is obviously what the client is paying you for, and quite honestly they are not necessarily interested in your cool drone hardware, or your checklists, but they will be eagerly looking forward to the data, and I am not speaking about photos or video. The data that the client will be looking for from you can actually be delivered by two different methods. You will already have negotiated this prior to winning the contract.
There are two methods of data delivery that clients may ask for: 
I. The client will ask for the raw imagery and perform their own processing of the "data" themselves.
While some clients may only require flight acquisition, this limits your income potential and can devalue your brand, as you'll be seen as just a drone operator. Remember that your value is in the data and the deliverables that you provide.
I could go into a lot of depth here, but to keep it simple, you will run into different client scenarios with solar companies. 1) the client is the owner/operator of the solar farm, 2) the client is a 3rd party O&M (operations & maintenance) company, or 3) the client is a data analytics company will contract you.
In any case, it's possible, even likely that they will only want you to perform the flight acquisition. Early on, this sounded perfectly logical and reasonable to me, however, this will not only limit or minimize your income potential but also devalues your brand, and by going along with this, I realized I was losing repeat business because I was pigeonholed as a drone operator only. Always remember to ask yourself, what is the end-game for the client? Your value is NOT flying the drone, your value is the data or the deliverables. I recognized that I was not a solar engineer or technician so how would I be able to provide reliable analytics reports? *More on this later in the article.*
II. The client will ask for the full inspection, including flight acquisition, data analytics and reporting.
This is EXACTLY what you want! While it may seem daunting at first, it's actually a great opportunity to establish yourself as a solution provider. You can outsource the data processing to companies that specialize in this area and offer anonymity, allowing you to deliver the complete inspection under your own logo and brand. This means that you're not just a drone operator, but a provider of reliable and valuable data that the client can utilize for preventative maintenance and remediation of the solar farm. The third-party report you provide can also give assurance to board members, investors, or stockholders that the solar plant is being properly monitored and maintained.
If you're unsure about how to outsource the data processing, don't worry. In the next section, we'll provide you with resources that can perform these analytics using your flight data. Remember, always keep in mind that your value lies in the data and deliverables that you provide, and being a solution provider is a much more valuable position than just being a drone operator.

Data Processing, Analytics And Reporting
As discussed in the previous section, data acquisition is only the first step in delivering a valuable solar inspection. Once the flight data is collected, the data must be processed and analyzed in order to deliver a comprehensive report to the client. There are a variety of companies that offer data processing and analytics services, and it's important to choose the one that best fits your needs.
When researching potential partners, there are a few key factors to consider. First, think about the specific requirements of your client. Some companies may have unique needs or preferences when it comes to reporting format or data analysis. Second, consider your budget and the turnaround time required for the final report. Some companies may offer premium subscriptions that allow for branding on the reports, but this will likely come with an additional cost.
As a personal tip, I've found that it's often possible to customize the reports in order to place your own logo and branding on them. This can help to further distinguish your business and strengthen your brand. However, it's important to factor in the cost of these services when crafting your proposal to the client. In my experience, marking up the cost by around 10% is a good starting point, but this may vary depending on the specific client and their budget.
It's also worth noting that solar companies can be very cost-conscious when it comes to inspections. However, as a small business, you're uniquely positioned to offer competitive pricing while still delivering a high-quality product. By minimizing your costs and delivering a professional report, you can establish a strong reputation in the industry.
To provide a helpful reference, below I've listed my preferred partner for data processing and analytics.
To produce results of professional quality, you'll need a combination of the right drone and a good building inspection software. There are a host of them out there – roof top inspection isn't the most technically demanding use of drones, after all.

At Scopito, we are experts at digitizing your assets. Our platform uses automation and Machine Learning to derive all-important insights from your geospatial data. Over time, your historic inspection data will become the catalyst for powerful predictive maintenance.