Scopito is a cloud-based platform that provides data management, processing, analysis and reporting. Scopito specializes in Powerline, PV Solar, Wind Turbine, Roof and Building Inspections.
How Scopito helped a small Drone Service Provider take on a Powerline Inspection
Since 2016, when I first launched into my drone adventure, technology has continually and exponentially advanced while at the same time becomes more and more affordable. But, even then, a prosumer grade drone could perform autonomous flight operations, capturing high quality imagery and capabilities of delivering photogrammetry for mapping and modeling, in addition to standard high-resolution photo and video. With a reasonable investment, a guy with his drone could effectively go out and perform these types of services out of the back of his car.
As I have shared in previous articles, that when starting out, my drone services were primarily based in performing real estate photo and videography along with other basic services. I was happy, enjoying the "drone life", and I had great clients and partnerships. However, it was becoming obvious to me that in order to sustain my business and the future of my career, I needed to grow my capabilities and offerings to take on other services.

I began looking at my surroundings, noticing cell towers, powerlines, and solar farms among many others, and realized the potential for growing my capabilities to perform aerial inspections of these systems. I remember thinking to myself, but "how can I process my drone inspection data?" Fast forward a few months, and I pick up where Scopito came into the picture.
I realized that flying the drone and taking pictures, while important, was only one piece of the solution. I knew that a client would need more than a folder of hundreds of photos but would need a report that showed the findings of an inspection. I am not a powerline engineer, or a solar engineer, I am a drone pilot, so how do I fulfill the most important part of the inspection solution?
I began researching how other, big name drone service providers were doing it. I must confess, found myself a bit intimidated by these companies and their massive industrial looking drones and survey equipment, especially considering that my drone services were riding the shoulders of a drone that I bought on Amazon. But I knew that I could provide high quality image data and I was determined to push through and find a way.
In the meantime, I had been sharing my thoughts with a good friend, who happened to work as a lineman for a local electric coop. He agreed that inspecting the powerlines and power poles in rural areas was a huge challenge that they faced on a daily basis. He spoke about how they performed these inspections by taking a lift truck with a team to either climb the poles or fly the lift up to get a view of condition of the assets. He also mentioned that they were more reactive to outages, than they were proactive in monitoring and maintenance of the network assets.
As an experiment, we took my drone out and flew a row of poles, taking photos of the actual components that they would normally inspect manually. Needless to say, he was impressed by how quickly we were able to cover so many poles and the quality of the imagery. I compiled all the images on a thumb drive and tossed it to him. A few weeks later, he called me and asked me if I could meet with him and his manager to discuss the images. You can imagine how that conversation continued, the questions that were asked, and the homework I had to do.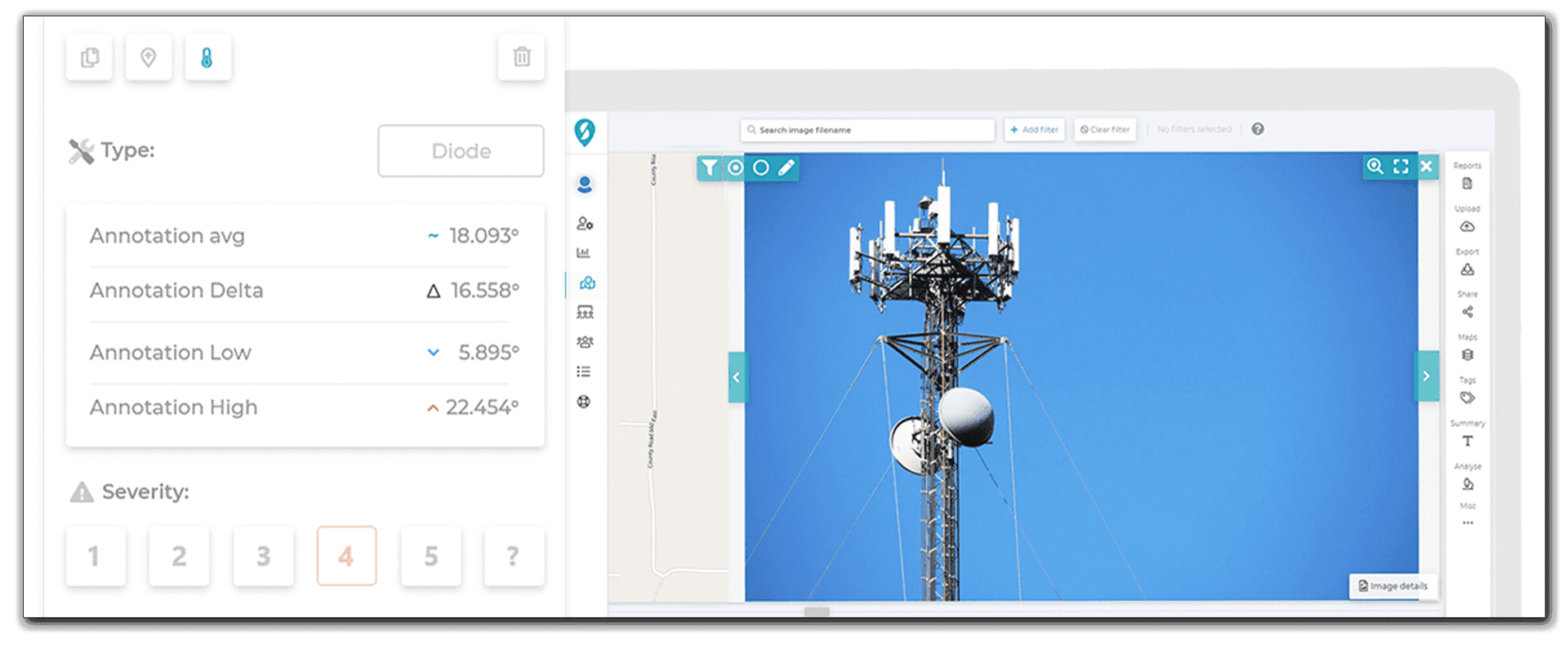 What is Scopito? And How Do They Help Us?

Scopito is a leader in the field of visual inspection, data management, analysis, and reporting. They simplify complex work processes, making inspection analysis and reporting fast and easy. Their software platform can be used across a wide range of areas, but their specializations are:
They are the ideal partner, analyzing my data proficiently, utilizing both artificial intelligence and industry expert analysis. The Scopito platform is user-friendly and super-fast, annotation is super easy, and reports are comprehensive and adaptable to my specific needs. All of this simplifies my workflow and minimizes the amount of time I spend at my computer.
As I write this story, I feel a strong sense of gratitude. Prior to engaging Scopito, I wondered how I could compete in the market, but now, I have the complete solution to go out and perform industrial inspection services with confidence.
At this point I could say "the rest is history, this is how I process my drone inspection data" but honestly, this partnership literally marked a new beginning for me and my drone business. Upon discovering Scopito initially, I reached out and scheduled a call with the head of sales. As I  began explaining my situation, I fully realized that they might have little interest in working with a small DSP, but to my surprise, I was met with warmth and acceptance, asking me what I needed from them.
In short, I explained my lack of knowledge and experience relating to performing a powerline inspection on an industrial level. They quickly put me at ease, and they began instructing me on what a power company expects from an inspection.
The founder and CEO of Scopito started out as a drone services provider himself back in 2013 and realized the need for a comprehensive data-management, analysis and reporting, all the way to providing an efficient delivery system that would meet the client with the exact data they need.
How Scopito was founded | A Journey With Drones
Scopito literally changes the game; not only for the drone service provider, but also the owner/operator of the power system, be it a transmission or distribution powerline, a solar pv farm, a wind turbine farm, or any other type of industrial inspection. The image data that comes from these inspections is massive. Each file can be megabytes each, and upon compiling hundreds to thousands of images for a given inspection, can be a daunting task in and of itself.
In addition to the sheer amount of data, then comes analytics and how to manage looking through these hundreds to thousands of images.
Annotations to the conditions of an asset that can include rotted wood, rust or corrosion, frayed wiring, broken connectors, mounting brackets, among others. If known about in advance, these issues can be simply repaired before a catastrophic failure due to negligence occurs. In fact, it has been my experience that when one of my drone pilots notice an issue of urgent concern, we escalate accordingly and even before we have submitted our inspection deliverable, the client has sent a crew out to remediate the issue.
To continue my story, with quick education, I submitted a proposal to the electric coop, and thanks to my friend, and the free demo that he and I conducted, not to mention his encouragement to his management, I landed my first project. Of course, I was elated, and I felt completely confident of performing my first industrial inspection.
Scopito "Behind the Scenes"
Scopito was there every step of the way. They provided QA/QC (quality control) of the imagery I was uploading to the system in the first days flying the data acquisition, offering expert guidance. They were truly integral in the success of that project, and ultimately contributing to my success with that client and the ongoing business that keeps my company thriving.
Another program that Scopito offers is their White Label program. Through this program Scopito allows the DSP to present the deliverables to the client under our company logo. Most of our clients understand that while we may outsource our data management, they look to us as the sole provider. In the beginning, it was extremely important to me that the client look to me as the complete solution provider. I wanted to be perceived as delivering the inspection from start to finish. And thus, being the single point of contact and owning full accountability to the client. The White Label program comes with an associated cost, but could be valuable if or when needed.
To summarize, I started out as a small drone service provider, basically a guy with a drone. I needed to develop a comprehensive solution, and after discovering a way to process my drone inspection data, it was within just a few short months that I was operating and competing on a legitimate commercial level. Scopito demonstrates a high level of service and support, as well as ongoing innovation. I can personally testify without reservation that they are a huge and vital part of my business and my success, and to be honest, I wouldn't have it any other way. In the beginning, I wanted to find a way to fly my drone and earn a living. Scopito helped to make that dream a reality.
Click on the Scopito logo below to learn more about how you can also process YOUR drone inspection data!

At Scopito, we are experts at digitizing your assets. Our platform uses automation and Machine Learning to derive all-important insights from your geospatial data. Over time, your historic inspection data will become the catalyst for powerful predictive maintenance.