Introductions To My Drone BLOG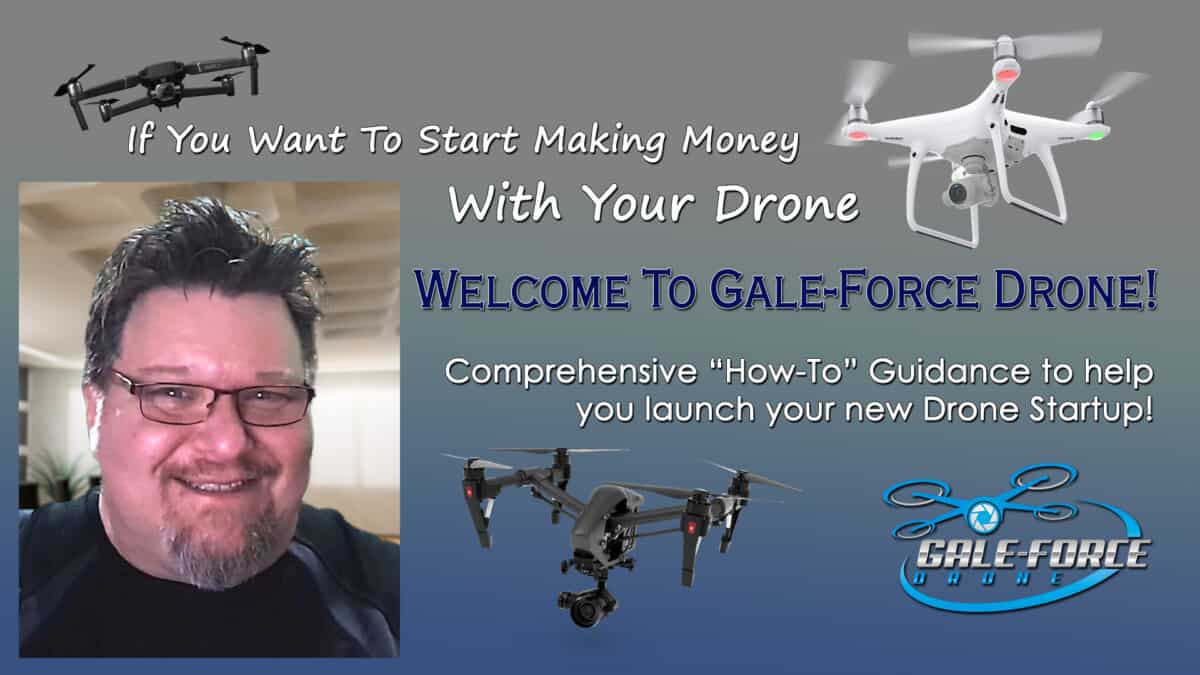 Welcome to Gale-Force Drone! This will stand as my first formal BLOG. As a brief introduction, this website and BLOG articles are all about my experiences, good and bad, living the Drone Life. I will share how I converted my hobby into a successful business, how I got started, the equipment I started out with, as well as new practices I have learned and continue to learn and implement to serve my clients. I willingly confess that I am not a prolific writer, but I look forward to sharing my experiences as a sole proprietor startup drone services provider in the drone marketplace. My hope is that you will learn from my experiences while launching your drone services startup business. SO again, welcome to Gale-Force Drone!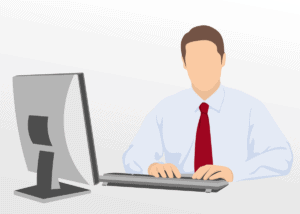 In 2017, after a 26 year career working in IT sales and consulting, I took the leap and resigned to pursue other endeavors. With my newfound discovery my primary pursuit was finding any excuse to fly my drones! I have now been involved in the drone industry for the past 4 years, getting started in 2016. Initially starting out with my first drone as a hobbyist, I enjoyed creating aerial videos of my house, neighborhood, family excursions, etc., but then the entrepreneur in me began looking for ways to turn my newfound interest into a genuine income earning prospect.
In the following, I give you a brief history on how I transitioned from hobbyist to professional, and within few months of purchasing my first drone, I turned my hobby into a full-fledged business, winning my first client contract.
Be Sure To Subscribe to My YouTube Channel!
How I Got Started In the Drone Life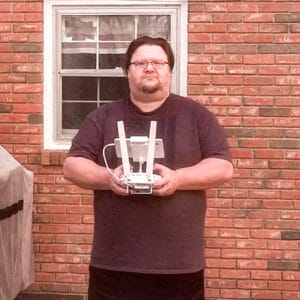 This story would not make as much sense unless I share how I got involved with drones in the first place. Many of you reading this article may be able to relate to my story. Back in 2015, I had been involved in my 25 year "job" working in Corporate IT Sales and consulting. I worked as an outside sales rep offering IT solutions to small, medium and large business. I started out on this career path, somewhat randomly. In trying to keep this short and to the point, in 1992, at 25 years of age, I relocated to Nashville Tennessee to pursue my lifelong passion in music. That is a whole story of its own, but suffice it to say, I had to get a real job that would allow me to work Monday through Fridays, with evenings and weekends off, so I could get involved in the music scene. As you might imagine, this led to me working different jobs, sometimes 2 or 3 part-time jobs at the same time. Finally, I landed the perfect job at a computer dealer with the perfect schedule and a decent wage.
This is literally the moment that launched me into the next 25 years in corporate IT. I had skills that I was unaware of and these were noticed and recognized by management who mentored me and raised me up in the business. I had no idea then how they would impact my life, even to this day.
But to continue my story, I did enjoy sales, and while I am ever thankful for the opportunities and success along the way, my career path took me away from my true passion as a musician. So, in 2015 I found myself to be quite unhappy and continuously thinking about ways to return to my passion pursuits. This is where the story takes an interesting turn. Having discovered YouTube, mostly watching prank videos and documentaries, I began seeing these YouTube Vloggers, young guys who had found success in their particular niche's by being innovative with their creativity. I was truly inspired! In fact, so much so that I was completely immersed following these guys and began thinking that it was time to re-invent myself. 
Fast forward to 2016, one of the YouTuber's I followed was implementing drone footage into their vlogs, and I have always been fascinated with aerial photo and video. I was quickly seduced and convinced myself to purchase a new DJI Phantom 4! And just like that! I entered the drone life!
So now, this is where Gale-Force Drone and this blog began, but to wrap up my story, by March of 2017, I resigned my corporate IT contract and set out on a new mission to sell and perform drone services!
The Mission and Purpose of This BLOG Site
My entire hope and dream for this BLOG is to help those of you who may be entering the drone life, whether it be a "Side Hustle", an all out career change like me, or perhaps you're a photographer wanting to add aerial to your offerings. Maybe you just simply enjoy flying and would like to monetize the hobby, this BLOG is for you!
At that point and time in 2016, there were some good resources available, but as far as going out and getting the business, I had to learn quickly!
I had to develop my sales and marketing plan.
I had to identify my target client, based on my gear and capability.
I had to round out my equipment to be able to perform the services.
I had to learn flight apps, photo and video editing software, etc.
I had to get my FAA certification, and so on and so forth…
I was literally learning as I went, from one day to the next. In my blog, I will provide you with real world, actionable "how-to" and "step-by-step" guidance to get you going. 
Can I Make Money With My Drone?
Drone Peers and Partnerships
In the last 4 years since beginning in 2016, I have had the good fortune of working directly and indirectly with other drone service providers, as well as data processing houses and have learned from the best. I have also learned how to generate commercial industry standard product, myself (or outsource as needed) while using consumer/prosumer grade equipment, FREE software, and a lot of DIM (Do-It-Myself) methods. And again, I am excited to share these with you to help you get your Drone Startup launched! Welcome to Gale-Force Drone! I look forward to hearing from you!
How To Get Your FAA Part 107 Pilot Certification

If you are serious about making money with your drone, whether it be Real Estate, Aerial Inspections, etc., then you will need, from the FAA a 14 CFR Part 107 certification.
The best source for your training can be found by clicking on RemotePilot101. Jason Schappert is a pilot and author of 8 best-selling aviation flight training books. While studying and taking tests is not the most fun, Jason breaks it down into 10 easy to follow (at your own pace) video lessons. These lessons are straight and to the point giving you the exact knowledge, nothing less, nothing more than what you need to pass the exam. Additionally, he is continually updating the training to keep it relevant to any changes to FAA regulations. This membership is a 1-time subscription – for life! So when you're 24 month renewal comes around, just sign in to RemotePilot101 and refresh your training.
Just remember, if you are flying commercially, you will need your Part 107 certification. It's not hard, you can do it!