Launching Your Drone Startup: Aerial Powerline & Tower Inspection Services Guide
Are you ready to kickstart your Drone Aerial Powerline Inspection Services? Whether you already have the necessary drone or are considering investing in one, this article will provide you with valuable insights to get your business off the ground. We'll explore five key points that will set you on the path to success.
Define Your Service Offering: Leverage Your Gear and Skillsets
Identify Your Target Clients: Match Skills and Equipment to Prospects
Develop and Execute Your Marketing Plan: Capture Business Opportunities
Research and Study Other Service Providers: Refine Your Methodologies
Establish a Data Analytics and Processing Partnership: Deliver Comprehensive Reports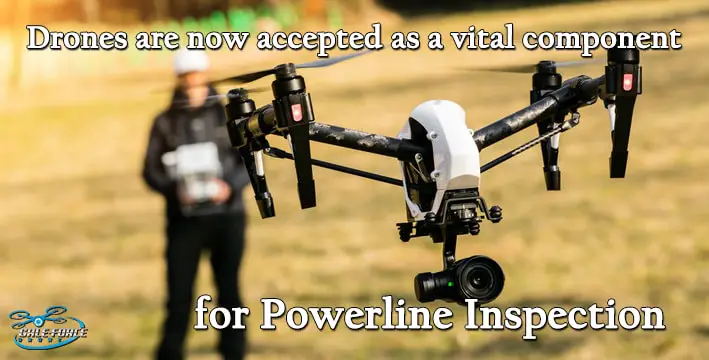 The Acceptance of Drone Usage For Industrial Purposes
As I sit down to write this article and begin framing out my outline, the first thought that comes to mind is "how do I convince an individual drone operator that he or she is qualified to offer powerline inspection services?" and compete at an industry grade level.
The Potential of Drones in Powerline Inspection
When I was getting started, I remember seeing all of the possibilities of using my drone to help the local electric coops inspect the powerline networks in my area. Even in my neighborhood, I would see trees and other foliage growing up around the powerlines, or powerline poles that were damaged in some way whether being damaged by a storm or being hit by a vehicle. In any case, I could see the potential for flying my drone over the powerlines, and providing imagery back to the electric company that would assist them in being proactive with their ongoing maintenance and repair efforts. 
Evolving Inspection Methods and Challenges
As I began studying the industry, I discovered that public utility companies require a visual inspection every 1 to 2 years and every 3 to 5 years, carry out a highly detailed inspection to assess for pro-active maintenance, upgrades and/or repair. Typically, these inspections have been performed by sending out a crew that walk the powerline and climb the poles, or teams with crane-equipped trucks to perform a thorough inspection. This can be a real challenge in metro areas with traffic congestion or in rural areas where terrain may be prohibitive to this these methods, if not impossible. As an alternative, the utlity may procure helicopter services to perform an aerial inspection. This can be exorbitant in cost, not to mention noisy, ecologically unsustainable. On average, a contract for a helicopter powerline inspection can top $4,000 per day, and if a utility were to purchase and operate a helicopter, we are talking up $2 million, with the added costs of operational, maintenance, and repair costs. 
The Rise of Drones in Industrial Inspection
Going back to 2016, drones, for the most part, were still considered to be toys and just beginning to come into age, and companies were not yet looking at drones as a viable solution for aerial powerline & tower inspection. Since then, the commercial drone industry has matured and is now accepted as an industry standard and has burgeoned into one of the top fastest growing industries; on track to top $43.1 billion globally.
The Promising Future of Drone Inspection
So What Does This Mean For Drone Startups?
I'm so glad you asked! What this means for us is that now we no longer have to convince prospective clients of the value of drone inspections! They already get it! And how does this help us as startup and small DSP's (drone service providers)?
Capitalizing on Market Awareness and Education
Since the market has become more educated on the safety and economic efficiencies of using drones for inspection purposes, we can focus on developing client opportunities and relationships to move ahead with getting those contracts inked. Don't get me wrong, we still need to call on clients, and present our solutions, but we are perfectly positioned to offer industry grade solutions at prices that make sense to the client.
Overcoming Criticism and Demonstrating Value
One thing I should mention here. Small DSP's do receive criticism for under selling larger and better established drone operators. The way I overcome this criticism among my peers is to explain that because I am a small operator, generally working from a home office; and other than our gear, we can operate with nominal overhead costs and still be profitable despite offering lower pricing. That does not mean we want to diminish our value as a smaller operator by offering dirt cheap prices, but in a highly competitive industry, we have to position ourselves where we can acquire the work and sustain our business.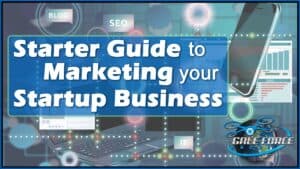 Click into my "Starter Guide to Market Your Drone Services Business" to learn how to set up your marketing, or update and enhance your current marketing strategy.
Getting Your Drone Powerline Inspection Service Started
Performing aerial powerline & tower inspections can actually be a lot of fun. The first thing I love about drones is flying. Many of the inspection services we will perform utilize automated flight plans that are pre-programmed in the controller prior to launching the mission. Conversely, powerline inspection requires skilled manual flight by the pilot.
Key Components for Setting Up Your Service
In the list below, I provide the two primary components to consider when setting up your powerline and tower inspection service.
Equipment – to be competitive, you will need to have the capability to capture high resolution (visual/rgb) and thermal imagery for proper analytics and reporting.
Data Analytics – this is the actual analysis of the visual and thermal imagery in order to provide the reporting to the client.
Click into my article "How I Process My Drone Inspection Data" to learn how I process my drone inspection data.
I do not want to over simplify or make it seem easier than reality to perform this service. But at its core, it boils down to providing clients with the imagery and reporting they need to assess the condition of their power network and assets. With the right equipment, data analytics capabilities, and a focus on delivering high-quality results, you can establish a successful powerline inspection service.
There Are Two Types of Powerline Networks
Before we deep dive into setting up our inspection service, we need to understand there are 2 types of power networks.
Transmission Network
The transmission network is responsible for moving bulk electricity from generation sites to substations over long distances. It consists of massive towers supporting high-voltage wires, with voltages of 100 kV (100,000 volts) and above. These lines connect power generation sources to areas of high demand.
Distribution Network
The distribution network carries electricity from the substation to homes and businesses. These powerlines can be found overhead, along streets, or sometimes underground. Distribution lines, combined with transmission lines, form the overall power grid that supplies electricity to our communities.
The reason that this is important to us, is that there are significant differences in the way we approach these two systems. For the purpose of this article, I am focusing primarily on the distribution network. These are often owned and operated by local electric cooperatives, making them more accessible to us (as a drone startup) to offer our services. Transmission networks are usually owned and operated by national companies and may be more difficult to engage as a small drone operator.
A common thread you will find throughout all of my articles is the importance of knowing where we live (so to speak). This is not to limit our potential, but there is no shame in small beginnings. We learn to walk before we run. Be ambitious, but it can take years to build a good reputation, and only one mistake in a brief moment can destroy a good reputation.
The type of equipment needed to inspect transmission powerlines needs to be resistant to the higher voltage emissions. This is known as EMI or electromagnetic interference. These currents can degrade the performance of susceptible devices including our "prosumer" drones, such as the Inspire, Phantom and Mavic platforms. When we decide to move into working with transmission networks, we will need to look at upgrading to actual industrial grade drones such as the DJI Matrice platform.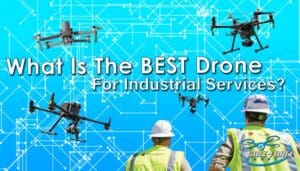 Click into my article "What is the best drone for Industrial Services" to learn more about things to think about when investing in your gear.

What Drone Gear Do I Need?
Define your service offering based on your gear and skillsets you already have.
In order to perform a drone aerial powerline & tower inspection, the first thing to consider is what equipment do you have and what will you need. As with anything, there are multiple ways to approach this, you will just need to determine the niche you are best equipped to carry out.
In my case, I started out with a DJI Phantom 4 and later purchased the DJI Phantom 4 Pro. With this drone, I was fully capable of providing the "Visual" imagery for the inspection, but quickly realized I would need a thermal sensor to provide thermal imagery. Visual and Thermal are the main 2 images that the client will expect as part of the reporting.
There are thermal camera kits available to modify the Phantom and Mavic "type" drones. Click HERE to check out some of these options for consideration.
These kits allow you to utilize the Phantom or Mavic drone you already have and will give you the capability to capture both visual and thermal imagery for the inspection report.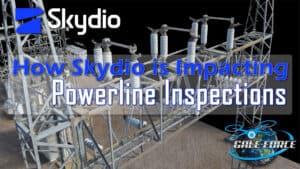 Click into my article "Skydio's Unique Approach to Powerline Inspection" to learn about an emerging approach to conducting powerline inspections.
How to Plan your Powerline Inspection Mission
Now that you are equipped with the necessary gear, the next step is to develop and establish the proper methodology to go out and conduct your Drone Aerial Powerline & Tower Inspection operation. In this section, I provide details to properly plan out your powerline inspection mission.
Fortunately, for all of us, our first mission only happens once! Then our next subsequent missions improve based on the experience we gain, and as we continue, our efficiencies improve until we have refined and established our standard methodologies for each of our services.
Creating a Project Checklist
One of the most important things will be to create a  Project Checklist. You can click here -> Flight Plan Template <- to access the form I use. This checklist will include everything from the client details and location of the inspection, the equipment and supplies you will need, as well as your pre-flight and flight planning checklist <- this is the form I use. Personally, I go about every mission as if it is my first; meaning, I do not assume I have every cable, battery or prop, I always refer to my checklist to confirm every single item. As a *side note*, be sure to NOT allow the client or anyone who might accompany you (invited or not) cause you to feel rushed or distracted. This can absolutely cause mistakes to occur that can disrupt the mission, or worse, force a rescheduling of the job. It is very important to be systematic as you arrive to the location, set up your gear and launch your drone.
Preparing in Advance
In the days leading up to the scheduled mission, it is good exercise to do some pre-arrival research of the areas along the powerlines. This will help you understand access points, potential obstructions, and terrain that may hinder the inspection. Upon arrival, be sure to carry out a thorough onsite reconnaissance to familiarize yourself with the location. This research can make the difference between a successful mission, or a dismal fail. You can usually find a google map of the site that will help you determine proximity to potential restricted fly zones such as nearby airports or military bases. You can simply refer to an FAA approved app on your mobile device for LAANC approval. LAANC (Low Altitude Authorization and Notification Capability) provides access to controlled airspace near airports through near real-time processing of airspace authorizations in approved altitudes. In any case, just follow your local FAA guidelines and obtain any necessary waivers or approvals. I assure you, it's not difficult, but it is very important. My motto is to always be prepared in advance to avoid any disruption or cancellation of the mission.
Flight Insurance and Liability Coverage
I also recommend acquiring flight insurance for the mission. I use Verifly which is on-demand liability insurance coverage for commercial drone flights. You can purchase upfront by the hour, day, or week depending on the mission. Many clients will require that we carry insurance, but having insurance provides an added layer of protection and peace of mind during your operations.
In the next section, I will discuss some high level guidelines for performing the powerline inspection.
Powerline & Tower Inspection | Flight and Data Acquisition
OK! After building out your solution, executing your marketing plan, and you have been awarded the client contract… Now is the most important part of the job!
Flight ops and data acquisition is obviously what the client is paying for, and quite honestly they are not necessarily interested in your cool drone hardware, or your checklists, but they will be eagerly looking forward to the data, and by the way, I am not speaking about handing them a thumbdrive with photos or video. The client expects a professional report that includes imagery, annotations of notable issues, and overall statistics. But never fear! just keep reading to find out how I accomplish this report. However, that being said, there are different ways that a client may engage your services. The following are the main two different methods. You will already have negotiated this prior to winning the contract.
Method I: Client Performs Their Own Data Processing
The client, or electric coop in this case, may insist that they only need the flight acquisition done, and the raw imagery so they can perform their own data processing. If this is the case, respond with your proposal, win the project and go fly it!
I could go into a lot of depth here, but to keep it simple, you will run into different client scenarios with powerline inspections. 1) the client is the actual owner/operator of the electric coop and powerline network. Or 2) the client is a data analytics and processing company and ONLY needs the flight acquisition.
In either case, it's possible, maybe even likely that they will only want you to perform the flight acquisition. Early on, this sounded perfectly logical and reasonable to me, however, offering only flight acquisition can limit your income potential and devalue your brand; and by going along with this, I realized I was losing repeat business because I was pigeonholed as being JUST the Drone Guy. Always remember to ask yourself, what is the end-game for the client? To build a strong business partnership and earn the client's respect, we really need to deliver the full solution. Flying the drone is only part of your value. The REAL Value is the DATA or the analytics and reporting deliverables. To earn the respect of the client and build a real business partnership, you must be able to provide the full solution. I recognized that I was not a certified lineman or technician so how would I be able to provide reliable analytics reports? Don't worry, YOU CAN! More on this later in the article.
Method II: Full Inspection Including Data Analytics and Reporting
This is EXACTLY what we want! First, let me encourage you, this is nothing to be afraid of. Honestly, in the beginning I was intimidated and fearful of this part of the equation and only offered the flight acquisition. If only I had known then what I quickly  learned, was that I can outsource the data processing online and at a relatively inexpensive cost! There are companies that specialize in the analytics and processing, offering anonymity that allows you to deliver the complete inspection under your own logo and brand! SO NOW, you are not only the drone operator, but you are the solution provider! Again, as I said earlier, it's all about presenting value to your client. And now, as a benefit to the client, they have your 3rd party report that they can utilize to go out and perform preventative maintenance and/or remediation to the power network. Additionally, by having a 3rd party report, they can provide this to board members, investors or stock-holders to provide assurances that the power network is being properly monitored and maintained.
In the next section, I will provide you with resources who can perform these analytics by using your flight data.
Data Processing, Analytics And Reporting
As I have described so far in this article, we have tremendous resources to provide us with data processing, analytics and reporting. You will want to research the best solution for you based on your personal criteria. A few things to consider are the client requirements, your budget, the turn-around time for the final reporting. Some companies will offer you the option to place your branding on the reports, but this will usually come with a premium subscription. As a tip, it's definitely worth considering, as this can enhance your professional image.
When crafting your proposal, you will need to factor in the cost of data processing and analytics and include it in your price to the client. You will take their cost to you and add your mark-up for managing the process, and you will need to determine the percentage based on your comfort level or the client budget. Also, this is just a side-note, I have found that these companies are very cost-conscious on these inspections. But remember, you are uniquely positioned, as a small business, to keep your costs minimized and be able to offer the client a competitive price while delivering a professional industry standard product at a reasonable profit.
Contact me if you are interested in signing up for Scopito; I am on a first-name basis with them and can help you navigate the process seamlessly.

At Scopito, we are experts at digitizing your assets. Our platform uses automation and Machine Learning to derive all-important insights from your geospatial data. Over time, your historic inspection data will become the catalyst for powerful predictive maintenance.
Watch this video for a quick overview...
I hope this article has inspired you to pursue your passion and turn your hobby into income! It is my passion to provide real-world guidance that will 1) convince you that you can do it, and 2) provide the foundational logistics to enable you to formulate your plan and execute!
I also want to let you know that I am accessible by email or any of my social media channels. I am eager to answer any questions, share experiences and even learn from you! Do not hesitate to reach out to me and I will personally get back to you.
How To Get Your FAA Part 107 Pilot Certification
If you are serious about learning how to start your Aerial Powerline & Tower Inspection Business and making money with your drone, whether it be Real Estate, Aerial Inspections, etc., then you will need, from the FAA a 14 CFR Part 107 certification.
The best source for your training can be found by clicking on RemotePilot101. Jason Schappert is a pilot and author of 8 best-selling aviation flight training books. While studying and taking tests is not the most fun, Jason breaks it down into 10 easy to follow (at your own pace) video lessons. These lessons are straight and to the point giving you the exact knowledge, nothing less, nothing more than what you need to pass the exam. Additionally, he is continually updating the training to keep it relevant to any changes to FAA regulations. This membership is a 1-time subscription – for life! So when you're 24 month renewal comes around, just sign in to RemotePilot101 and refresh your training.
Just remember, if you are flying commercially, you will need your Part 107 certification. It's not hard, you can do it!