If you are in the process of ramping your drone services offerings to include industrial (or enterprise) inspection services, you will need to consider what equipment you will need to perform these services. And with so many drones on the market, it can be challenging to determine which ones are best suited for your needs. That's where I come in. As an experienced drone operator, I've put together my top 3 drones for industrial services that will help you take your drone services to the next level. I have detailed my 3 recommended drone platforms at the bottom of the article:
A quick look back... The Drone Evolution
Over the past 6 to 8 years especially, drone technology has rapidly evolved and revolutionized the market, providing a diverse range of applications and interests. Initially, drones were merely considered a hobbyist's gadget, much like radio-controlled aircraft.
However, technological advancements have allowed the emergence of drones for commercial purposes, marking a clear line between hobbyist and professional drone operations. From exhilarating FPV racing to complex industrial inspections, the innovations and advancements within this industry continuously push boundaries, leading to the development of more advanced and efficient drones.
Get ready to take your Drone Services to the next level.
Like most any other business model, we are always aspiring to GROW, to PROGRESS, to take it to the next level. MORE BUSINESS equates to MORE revenue!
And while growing your drone services business should equate to more revenue, why do so many businesses struggle to grow? There are various factors that can impact growth, I'll get into that here.
In the drone services industry, I have already mentioned there are different levels of service offerings. I use a simple logic to differentiate between "Entry Level" commercial services, and Industrial or Enterprise services. And believe it or not, expertise is only part of the equation, whereas your equipment plays an equally important role in extending your capabilities, or limiting your services offerings.
At the top of this article, I mentioned my top picks of the best drones for industrial services, however, I do want to clarify that I am brand agnostic when it comes to drones. While DJI may be the industry leader, there are a lot of other manufacturers that offer exceptional drone solutions. So, don't limit yourself to one brand.
So, how do I choose the best drone for my business?
Choosing the best drone for your business depends on the type of services you want to offer. If you're looking to move into higher-end services, it's important to determine what you're most interested in and build your practice around the specific requirements to fulfill the appropriate service offering. For example, if you're interested in the solar industry, research what solar companies need in terms of aerial or drone inspections, and then acquire the necessary equipment and skills to launch your solar inspection practice.
Click into my article "Starter Guide to Choosing your Drone Specialization" to help you decide which industry you might want to get into.
You may already know what type of service you are interested in getting in to. And starting with one specific industry is a good idea, and give that practice time to mature organically before taking on more than you can handle. And if you're feeling intimidated, don't be! As I've taught in my other trainings, you're only limited by your own imagination.
So really, that's just how simple it is. When I reached this point in my drone journey, I had several ideas for how I would like to ramp up, but I eventually decided to focus on the solar industry due to my passion for renewable energy. I researched what solar companies needed in terms of drone inspections and put together the necessary equipment to launch my own solar inspection practice.
There are NO "Cookie Cutter" Solutions
Every industry has its unique requirements, and drone services are no exception. There are no "cookie cutter" solutions when it comes to choosing the best drone for industrial services. It's important to identify the specific needs of your chosen industry, determine the best equipment to meet those needs, and develop the appropriate skills to deliver the service.
The following are 3 of my recommended best drone for industrial services case studies...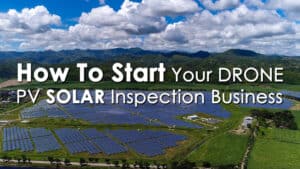 Let's start with PV Solar Inspections.  As I mentioned earlier, I was particularly interested in the solar and renewable energy industry. The technical expertise needed for solar inspections are relatively simple, and beyond standard drone operation, you only need to know how to create an autonomous flight plan based on the clients required parameters for elevation, overlap, and any other technical requirements.
Also, to conduct a proper solar inspection, you will need to have a drone that carries both a visual (RGB) camera, and an Infrared/Thermal sensor. In my experience, the DJI Mavic 3T Advanced Enterprise, or the Skydio X2 are both great options for this purpose.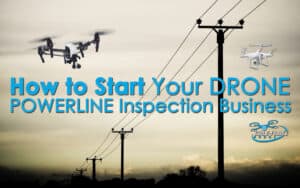 Next, let's look at Powerline Inspections.  Similar to PV Solar inspection, powerline inspection doesn't require advanced technical skills. However, there are additional opportunities for powerline inspection that demand industrial or enterprise-grade drone equipment. These skills involve performing photogrammetry to create an orthomosaic map or model of the powerline structure that provides reporting of vegetation encroachment along with structural digitization of the assets.
For powerline inspection, I recommend the same DJI Mavic 3T Advanced Enterprise, or the Skydio X2, both of which are excellent options for this purpose.
And for my 3rd case study, let's look at Wind Turbine Generator Inspections.  Compared to PV Solar and Powerline inspections, drone operations for WTG (Wind Turbine Generator) inspections are more technically involved, but not out of reach. Due to their immense size and placement in harsh environmental conditions, blade condition is the critical factor in WTG inspections. Unlike Solar and Powerline inspections, thermal imagery is not necessary. Instead, RTK (Real-Time Kinematics) will be required along with the equipment and skillset to provide meticulous locational imagery.
In this case, the recommended drone would have RTK integrated as well as a high-resolution camera with optical zooming capabilities. My recommendation for this type of inspection is the DJI Matrice 300 with RTK and the H20 camera sensor. This drone has a flight time of up to 55 minutes, is equipped with obstacle avoidance sensors, and can operate in harsh weather conditions.
3 BEST Drones for Industrial Services
To address the above described industrial drone services, I offer 3 best drone for industrial services solutions:

I. The DJI Mavic 3T Enterprise Advanced is a drone that takes the Mavic platform to an industrial level. With dual sensors providing both visual and thermal imaging capabilities, it offers a 24mm, 48MP camera with an equivalent focal length of 162mm, 12MP, and 56× hybrid zoom. The thermal sensor delivers a DFOV of 61°, equivalent focal length of 40mm, and a resolution of 640 × 512, which is the industry standard pixel resolution. These features make the Mavic 3T ideal for PV Solar and Powerline inspections, as well as many other visual and thermal services applications. The drone also offers RTK for centimeter-level positioning, as well as lights and speakers that can be used for search and rescue operations.

II. The Skydio X2 is a high-end autonomous drone designed for industrial applications such as solar and powerline inspections, infrastructure monitoring as well as search and rescue operations. The drone is equipped with a 4K60P HDR color camera with 16x digital zoom, the FLIR® Boson 320 x 256 infrared camera with 8x digital zoom and six 4K cameras, including one upward-facing camera, that provide 360-degree situational awareness, and advanced obstacle avoidance technology that allows it to navigate through complex environments without any human intervention. The Skydio X2 also features a rugged, waterproof design that enables it to operate in harsh environmental conditions, including rain, snow, and wind. Overall, the Skydio X2 is a powerful and reliable drone that can perform a wide range of industrial tasks with ease and precision.

III. The DJI Matrice 300 is a top-of-the-line drone in the Matrice series, which is considered the gold standard in enterprise-grade drone solutions. Unlike the Mavic and Skydio X2 platforms, the Matrice 300 (with the H20 sensor) is an ideal drone, particularly for Wind turbine generator (WTG) and Transmission Powerline inspections. The H20 sensor is equipped with a 1/1.7″ CMOS, 20 MP sensor with 200× max zooming (DFOV: 0.5°, EQV: 4800mm), making it suitable for detailed inspections. The M300 is also great for other services such as LiDAR and many more that require a more robust airframe. Its rugged construction and powerful performance allow for confident flight in harsh weather conditions, while the drone's RTK capabilities enable precise and accurate flight patterns with centimeter-level precision. With advanced features such as obstacle avoidance sensors and advanced AI capabilities, the DJI Matrice 300 is a versatile and reliable drone solution for a wide range of industrial applications.

Remember, when it comes to expanding your services to include industrial inspections, choosing the right equipment is essential for ensuring success and delivering high-quality results for your clients. I hope this guide has been helpful in providing insights and recommendations for the best drones for industrial services. 
As always, continue to learn, grow, and innovate in the industry, and you will undoubtedly find success in your endeavors. Best of luck, and happy flying!