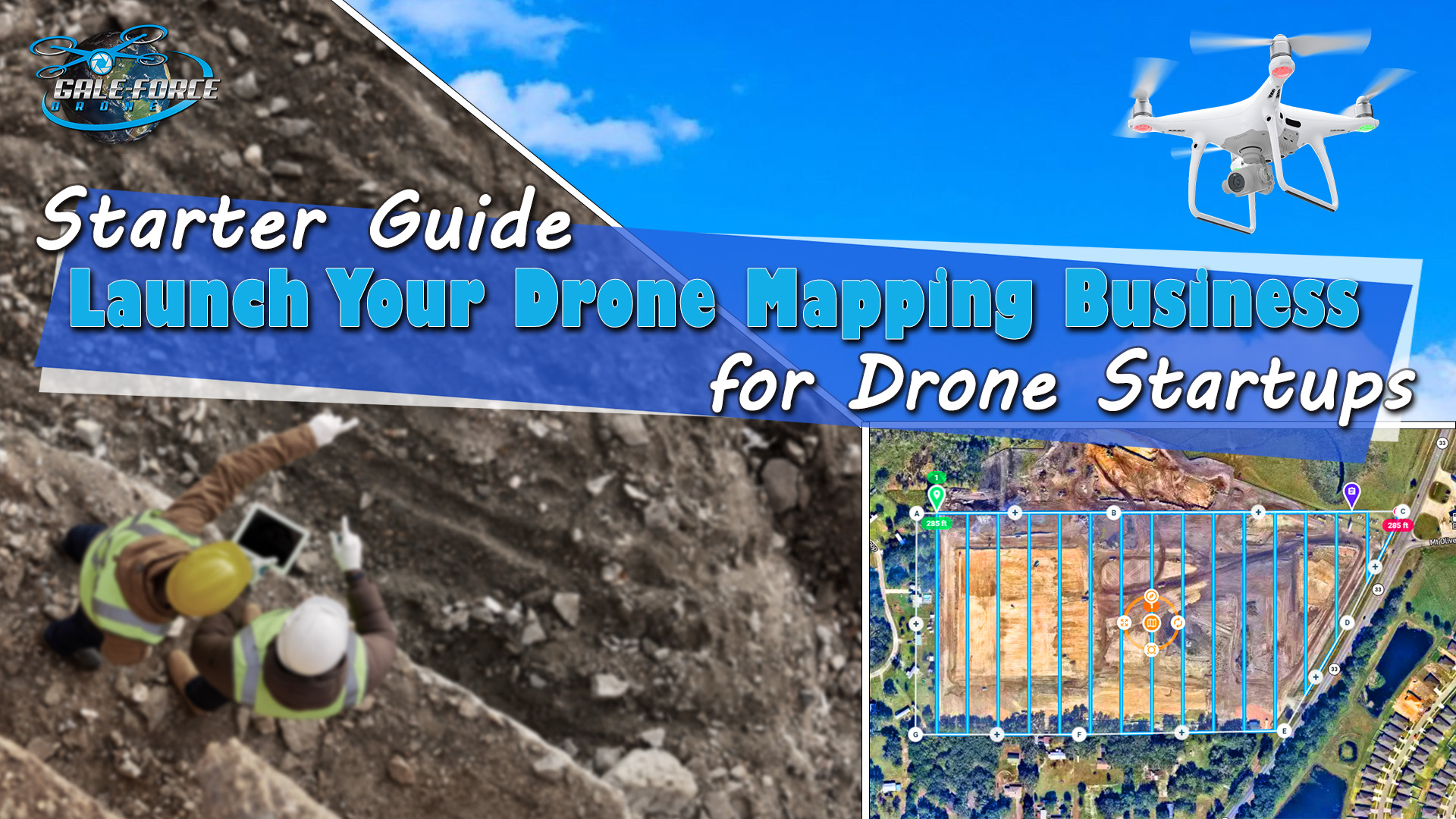 If you're a new drone pilot or Drone Startup business, looking for ways to earn money with your drone, one option might be to start a drone mapping services business. Drone mapping involves capturing aerial images of a location and using software to create accurate maps, 3D models or digital twins. These data products are used by a variety of industries, from construction to agriculture to real estate. In this guide, I will be walking you through the steps of building a successful drone mapping business, from choosing the right equipment and software to finding clients and pricing your services. Whether you're a hobbyist looking to turn your passion for drones into a means of income or a professional seeking to expand your business, this guide will provide you with the knowledge and tools you need to succeed in the exciting world of drone mapping.

Drone Mapping: Technology and Techniques
The reason I suggest Drone Mapping as a potential service that you can start out with, is because it can be performed by a new pilot with minimal flight experience. Drone mapping is the process of using drones to capture images or data of a specific area or object and then creating a 2D or 3D map or model of it. The process involves using various techniques and technologies to collect, process, and analyze the data.
The process involves capturing multiple aerial images of the area of interest, using a technique called photogrammetry, which involves taking lots of overlapping photos from different angles to create a 2D or 3D image of an area. Once the images are captured, special software is used to stitch them together and create an orthomosaic. An orthomosaic is a high-resolution 2D or 3D image that is georeferenced, meaning that it is aligned to a specific coordinate system, and can be used for many types of analysis and measurement.
Drone mapping is being used across various industries such as agriculture, construction, mining, and surveying to name a few. Drone mapping minimizes manual and tedious efforts to capture valuable data very quickly, with a level of accuracy that is difficult to achieve using traditional methods.
Digital twins is another type of drone mapping that has become increasingly popular among telecommunications and power companies. A digital twin is a virtual replica of a real-world object or environment, created using data captured by a drone. This technology has numerous applications, such as simulations, analysis, and planning, that allow businesses to make better decisions across various industries.

Drone Mapping: Real-World Applications
In this section, I list some examples of how the drone mapping fundamentals and techniques I describe in the previous section, can be used in different industries:
Construction: Drone mapping is commonly used in construction for site surveys, progress monitoring, and generating accurate as-built models. Drone mapping can provide high-resolution orthomosaic maps, 3D models, and volumetric measurements to assist with project management and planning.

Mining:

Drone mapping can assist mining operations by providing accurate, up-to-date maps of mining sites. These maps can help with mineral exploration, site planning, and environmental monitoring. Drone mapping can also be used to calculate stockpile volumes and monitor slope stability.

Surveying:

Drone mapping can provide surveyors with high-resolution aerial imagery and accurate topographical maps, which can be used for land development, civil engineering, and environmental assessment projects.

Asset Management and Inspection:

Drone mapping is used for asset management and inspection purposes, including pipeline inspections, bridge inspections, and building inspections. Drones can capture high-resolution imagery of structures and detect defects or damage that may not be visible to the naked eye.

Telecommunications:

Drone mapping has become a popular tool for telecommunication and power companies. By making digital twins of cell towers and power lines, companies can simulate and analyze different scenarios, allowing for better decision-making and asset management.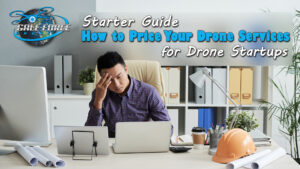 Click into my article "Starter Guide: How to Price Your Drone Services" to learn how to price your new Drone Mapping Services.
I want to re-iterate that the equipment and skills it takes to perform these services are not out of reach. If I could do it, then so can you!

Equipment and Software Needed for Drone Mapping
Another reason I suggest Drone Mapping as a potential startup service, is because it doesn't have to break the bank to get started. With a modest budget, you can get started with a relatively inexpensive drone that has the necessary features for aerial imaging. My guess is that the drone you own may do the job. Some of the more popular drones that are used in mapping include the DJI Mavic series, (including the Air and Mini platforms, so long as they have SDK integrated) as well as the Phantom series, and the Autel EVO series. Keep in mind that some drones have better camera quality and stabilization features than others, so do your research to find one that suits your needs.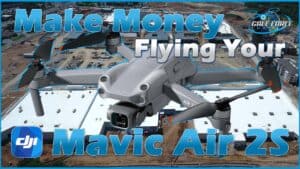 Click into this article "Can I Make Money with my DJI Air 2S?" to see how the DJI Air 2S can be used for Drone Mapping, as well as other services.
In addition to the drone itself, you will choose a flight control app to plan and execute your mapping mission. Popular apps include DJI GSPro, Pix4Dcapture, and DroneDeploy. These apps allow you to plan your flight path, set your camera parameters, and monitor your drone's flight in real-time.
Then once you have captured your aerial images, you will need software to process your data (or stitch them together) into a cohesive map or 3D model. Popular software options include Pix4D, DroneDeploy, and Agisoft Metashape. These software programs use photogrammetry to process your images and create an orthomosaic or 3D model.
I also want to make mention that I have found it's not necessarily required to use the same flight controller app as the data processing software. I have used various apps, from DJI GS Pro, to UGCS, as well as Drone Deploy and others, to fly missions and capture the specified data. No matter the App you choose, when flown and captured per the required specifications, the end result is always the same: high-quality data that can be processed into useful maps and models. So don't feel limited to using the same app for both flight control and data processing – experiment with different options and find the ones that work best for you.

Building a Customer Base: Marketing and Communication Strategies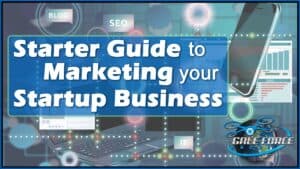 To build a customer base for your drone mapping business, you need to have a solid marketing and communication strategy. Click into my article "Starter Guide to Market Your Drone Services Business" where I go into great depth on how to effectively market your Drone Services.
Start by identifying potential clients in industries such as construction, agriculture, mining, surveying, and environmental management. Attend industry conferences and events to network with potential clients and learn more about their needs. Create a USP (unique selling proposition) that differentiates you from other DSP's (drone service providers) in your market. Create a website and social media accounts to showcase your work and reach a wider audience. Network within other companies that work in the various industries, establish partnerships to collaborate with. Utilize email marketing to stay in touch with clients and keep them updated on your services. Ultimately, the onus is on ourselves to communicate the benefits of drone mapping to potential clients, emphasizing improved efficiencies, cost savings, and more accurate data assets. Build a strong online presence and reputation by asking clients for reviews and testimonials. By using these strategies, you can establish a strong customer base and grow your drone mapping business.
One of my favorite personal testimonials that I share is I joined my local Chamber of Commerce. By attending chamber events and networking with other business owners, I was able to form partnerships with a real estate agency and a construction company. The real estate agency needed high-quality aerial photos and videos for their property listings, while the construction company needed accurate maps and models for their building projects. I was a quick study, and was able to provide both services, and the partnerships led to repeat business and referrals from satisfied clients.
Through networking with the Chamber of Commerce, I quickly established myself as a trusted asset to the local business community and my business started really taking off!

As someone who has been in the drone services industry for several years, I have seen the range of services continually evolve and the scope for drone services will only continue to expand. It has opened up a world of possibilities for professionals and hobbyists alike. With the right equipment, software, and marketing strategies, anyone can start their own drone mapping business and find success. I encourage you to do your diligence and find your niche, whether you're interested in mapping for construction, mining, telecommunications, or any other industry, the opportunities truly are endless. The time is now, take the leap. With hard work and dedication, you too can achieve mapping success.