The DJI Mavic Air 2S. As of this writing, this drone is selling for about $1000 and really packs a punch in this price range. With the 1-inch CMOS sensor, 20MP, 12km range, obstacle sensing in all directions, the DJI Mavic Air 2S is an affordable and great versatile drone for both basic inspections and creative work.
I get a lot of questions about what services can be performed with different model drones. In the last year, with the introduction of the DJI Mavic Mini and Mavic Air, then more recently the 2nd generations of these drones, there are a lot of people getting into the drone life. At the sub $500 to $1000 pricepoints, these drones are phenomenal in their capabilities. With the newest release of the Mini 2 and Air 2S, the capabilities have increased exponentially. 
As drones have become widely accepted as viable tools to various industries, so have become the opportunities for organizations to leverage drones, and drone service providers to perform all sorts of photo and video imagery capture for inspections, marketing and other creative service needs.
In the following, I provide a list of services that you can begin performing to start making money flying your Mavic Air 2S!
Construction Site Monitoring | Mavic Air 2S

Construction monitoring is a crucial drone service that can be performed with your DJI Mavic Air 2S. Construction companies utilize drone service providers to capture precise imagery of the numerous construction project steps such as pre-planning, construction process monitoring, quality monitoring, safety inspections, marketing, etc.
Construction project managers will typically need to map the job-site on a weekly basis. This routine is fundamental for tracing the progress and development of the site, as well as safety inspections and real-time quality monitoring. Drones provide a bird-eye-view on the entire project that help to see issues that would otherwise go unnoticed by ground level inspections. Additionally, geotagging capabilities of drone maps enable the capture of necessary area measurements, providing an estimated stockpile volume for quick, intelligent decision-making.
Roof Inspection | Mavic Air 2S

Roof inspections are another service that can be conducted with your Mavic Air 2S. Business and home owners alike will benefit from conducting periodic roof inspections. Environmental wear and tear will slowly cause deterioration to the roof of a given structure. Also, structures in rainy or lengthy cold weather environments are susceptible to moss growth on the roof, which could get worse if unchecked.
Roof inspection can be a lucrative service for a drone startup business. Drones are safer, more efficient, and there is potential for ongoing recurring work. While roof inspection is certainly possible without a drone, you may be more pre-disposed to do it regularly if you can avoid having to hire a crew or scale the roof yourself. Not to mention the safety risks that are involved. 
To produce results of professional quality, you'll need a combination of the right drone and a good building inspection software. There are a host of them out there – roof top inspection isn't the most technically demanding use of drones, after all.

At Scopito, we are experts at digitizing your assets. Our platform uses automation and Machine Learning to derive all-important insights from your geospatial data. Over time, your historic inspection data will become the catalyst for powerful predictive maintenance.
Mapping and Modeling Services | Mavic Air 2S

Drone mapping services are another service that we can perform with the Mavic Air 2S. (please note the controller software listed below) These services are being used by many types of companies from surveying, to engineering, general contracting, to construction, to create 2d maps and 3d models that deliver real value by expediting workflows and saving significant time and money. For instance, the construction industry benefits by improving operational efficiencies by leveraging aerial data.
Unlike outdated methods, drones are increasingly used to map small and large areas, depending on the specific needs. With the ability to gather linear and volumetric measurements from the sky, construction engineers and general contractors can remotely audit the progress and process of a project without ever stepping foot on the site. This includes things like remotely analyzing stockpiles of raw materials, general 3D point clouds for permanent records of installations, and auditing cut and fill calculations, even ensuring that the elevations gathered are accurate.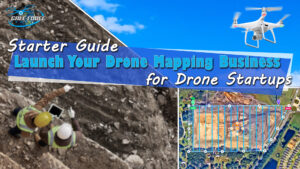 Click here for my article "How to Start Your Drone Mapping Business" to learn about the Fundamentals, Industries, Gear and Marketing related to Drone Mapping Services.
Making money flying your DJI Mavic Air 2S, conducting mapping services is one you should definitely consider.
*You will want to use DroneLink as your flight app for mapping missions.*
Photogrammetric Vegetation Encroachment Services | Mavic Air 2S

Vegetation encroachment surveys are critical for maintaining the safety and reliability of power distribution systems. With the DJI Mavic Air 2S drone system, these surveys have become faster, cheaper, and more accurate than ever before.
In a recent project, we were able to identify over 20 areas of vegetation overgrowth that needed immediate attention. We provided the client with a detailed report that included GPS coordinates and high-resolution images of each location. With this actionable data, the power company was able to dispatch crews to the precise locations in need of attention, quickly and efficiently.
Using the Mavic Air 2S, you can easily capture high-resolution aerial images and the advanced camera and gimbal system can capture images from multiple angles, allowing you to create 3D models of the areas of vegetation encroachment.
The benefits of these surveys are many: reducing power outages, enhancing the reliability of the system, and improving public safety. Check out my article "Photogrammetry or LiDAR for Encroachment Surveys?" for a deep dive into this practice.
Content Licensing | Mavic Air 2S

Content licensing is another way we can start making money flying the DJI Air 2S. I have generated a fair amount of income, sort of by accident you could say. When I have been out flying a client project, there are often points of interest that you will see while onsite at your project, or on the way to and from your project.
My favorite experience I like to share is that one of these times, I was driving through Houston Texas, and passed the Houston Astros, Minute Maid Park and decided to stop off and get a quick drone shot. Later on, I created a little video and put it up on YouTube. A couple years after-the-fact, I received an email asking if I would be willing to license the video. Now, remember, I shot the video on a whim for my own personal enjoyment. Needless to say, I was happy to sell the licensing, and for a handsome fee.
You will accumulate a lot of drone footage that can easily be repurposed to make stock drone footage for yourself and/or other creators. And the DJI Mavic Air 2S, is a phenomenal drone that can be used for the specific purpose of creating stock photos and videos. There are many platforms that you can leverage to start making money flying your Mavic Air 2S!
Real Estate | Mavic Air 2S

Real Estate is another service that can be performed with the Air 2S drone. It's also a great entry-point for new drone startup businesses. Drone Service Providers are commonly contracted to perform all types of real estate photo and video for marketing residential properties, commercial properties such as, apartments, resorts, vacant land and others. Drone cameras are capable of capturing high resolution still images, video, multiple overhead map images, and even 360 degree panoramas.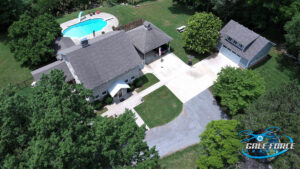 Click here for my study into "Are Realtors Hiring Drone Photographers" and learn about 3 different ways Real Estate Agents are hiring Drone Pilots.
This is literally how I got my start in the drone business. After passing my Part 107 exam, I immediately began calling on realtor friends, stopping by real estate agencies dropping off my business card. 
How To Get Your FAA Part 107 Pilot Certification
If you are serious about making money with your drone, whether it be Real Estate, Aerial Inspections, etc., then you will need, from the FAA a 14 CFR Part 107 certification.
The best source for your training can be found by clicking on RemotePilot101. Jason Schappert is a pilot and author of 8 best-selling aviation flight training books. While studying and taking tests is not the most fun, Jason breaks it down into 10 easy to follow (at your own pace) video lessons. These lessons are straight and to the point giving you the exact knowledge, nothing less, nothing more than what you need to pass the exam. Additionally, he is continually updating the training to keep it relevant to any changes to FAA regulations. This membership is a 1-time subscription – for life! So when you're 24 month renewal comes around, just sign in to RemotePilot101 and refresh your training.
Just remember, if you are flying commercially, you will need your Part 107 certification. It's not hard, you can do it!